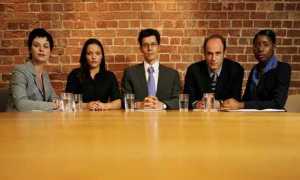 Help me find a job: Here are the 10 questions you can almost always count on in a job interview, and some helpful hints about how to respond:
Why did you leave your last job? If youre managing your working life as you should, the reason you left your last job is that you are trying to further your career and take the next logical occupational step. If, however, you left because you hated your job or your boss, this is not the time or place to mention that. Stay positive and demonstrate a progressive, mature attitude.
Why do you want to work for us? Show the interviewer that you know something about the company and the position. If the company is a leader in its industry, or if it is experiencing rapid growth and expansion, these are good reasons.
Why should we hire you for this position? Let the interviewer know what you are capable of, and what you bring to the company that will move the organization forward. A good knowledge of the company and its product(s) will help you respond to this question. Do your homework and think through your own reasons for wanting the job before you get to the interview.
What are your strengths? Focus on your professional strengths, and those aspects of your character that will positively add something to the organization. Employers seek individuals who are diligent, hard-working and adaptable to new situations, and who can work well independently, yet still function effectively as a member of the team.
What are your weaknesses? This is tricky territory. If you are consistently late to work, this may not be the best item to mention in a job interview. If, however, you lack a certain area of training, licensing or certification, you should be honest about that, and have a plan to earn the missing credentials. If the employer senses you are determined to enhance your qualifications, and are in the process of doing so, you may be still be considered for the position.
Where do you see yourself in five years? Employers want to know if they can count on you for the long term. Position yourself as a reliable person seeking occupational stability. If you have ambition to consistently progress professionally, state that for the employer. "In five years I plan to be in middle management, in a reasonably higher income bracket."
How do you work under pressure? The interviewer is really trying to determine how you handle stress. It is important to be able to approach a job one element at a time, and not be overwhelmed by a seemingly stressful bigger picture. Demonstrate to the interviewer that you are organized, responsible and not one to panic under pressure. "I feel stressed out sometimes, just like anyone else, but I dont let it affect my job performance. I complete each task as it comes and I deal with the challenges the best way I can."
Do you have any questions for me? The answer should always be "Yes." If you have done your homework, there will be things you want to know about the companys growth and development plans and what your place might be in those plans. It is not good form to ask about salary in this first meeting. Ask about broader issues, such as possible advancement over time, working conditions, work environment and specific responsibilities.
Are you applying for other positions? Let the employer know you have applied for other jobs. This may work in your favor, especially if the employer is impressed with your experience and your performance in the interview.
Tell me a little about yourself. The employer wants to know what type of individual you are. Focus on aspects of your life and character that would directly and positively affect job performance. If you never give up until the task at hand is completed, say it. If you have natural leadership qualities, say it. If you are a good collaborator and team player, emphasize that. Give the employer good reasons to hire you.
Next week: Everything You Need to Know to be a Temporary Staffer
Paul A. Greenberg can be reached at pgreenberg@timespicayune.com