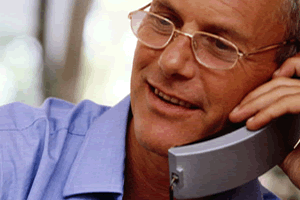 Ellyn Enisman is the author of Job Interview Skills 101: The Course You Forgot to Take. She has over 27 years of experience in interview coaching, career counseling, corporate recruiting, employer-relationship development, job-search strategy coaching, interview workshops, and more.
We asked her to speak about what is often the first step in the interview process: a telephone interview or screen. "The telephone interview is most often the first interview for college students and new grads, and when it comes to an internship it's often the only interview," she says.
Whether you're a student competing for an internship or you're looking for your first job after graduation, here are Enisman's 12 phone-interview tips:
1. When scheduling your telephone interview, ask the name and title of the person who will be interviewing you. Then do a Web search for the person and check their profile on online networks, so that you can learn about them. In addition, the title of the person will give you a hint about what type of questions you will be asked. Human Resources will question for overall fit and will ask about your resume and ask some behavioral questions related to the job description. Your direct manager will ask more in-depth questions about your skills and experience as they relate to the position.
2. Ask if you should call the employer or if they will be calling you. If they will be calling you, give a phone number where you will not have any interruptions. A landline is preferable.
3. If you must use a cell phone, make sure it is charged or have your wall charger in place the entire time you are on the phone.
4. If you are doing the calling, dial *70 and then the telephone number. This will eliminate call waiting and will work for cell phones and landlines.
5. Have a place set up for the interview. This should be a quiet room where there is a desk or a table by the phone. On the desk you should have a file folder for each job you have applied to. In that file should be a copy of the job description, a list of what they are looking for, your list of the skills and experiences you have that match the job description, your 30-second commercial, your resume, a list of your strengths and weaknesses, and thequestions you want to ask the employer. You must also have a pen and paper. Set all these tools out where you can easily access them while you are on the phone. Close the door and put a sign on it that says "interview in progress."
6. Use a headset connected to your phone. This will allow you to have 2 hands free to access the aforementioned documents.
7. Dress the part. Put your business suit just as you would for an in person interview. When you look good, you feel good. When you look professional, you communicate professionally.
8. Put a mirror on the wall in front of you or on the desk so you can see yourself. Smile — people can hear a smile through the telephone.
9. If you are extremely nervous, stand up or walk around the room. This will help release your nervous energy.
10. Prepare and practice . This includes knowing your 30-second commercial cold. This is the response to: "Tell me about yourself." Write out questions that you might be asked and practice your answers again and again with a friend on the telephone until you are comfortable and confident.
11. At the close of the interview your last question should be "What is the next step?" This will tell you what to expect and when to follow up.
12. Write a thank you note immediately. Email is okay.
( Read "Mastering the Phone Interview" for more more tips and advice.)
Ellyn Enisman is the founder of College to Career Coaching, a professional coaching firm with a unique and successful approach to empowering college students and recent college grads to prepare for the job market.