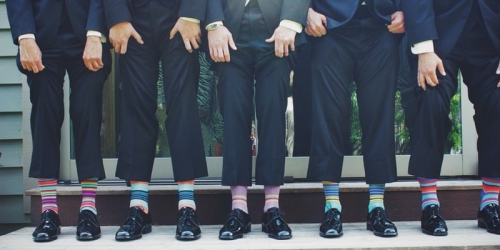 When it comes to an interview, dressing the part is just as important as having a good CV and cover letter. Your interview is when you get a chance to show off and have all of your hard work pay off. This is why you need to choose the right interview attire which is in line with todays dress code. However, there are no cut and dry answers when it comes to what you should wear to your interview. Some professions require strict business attire while there are other hiring managers who do not care as long as you are not in jeans and a t-shirt. There are some guidelines that you can consider which will help you choose the best outfit.
Dress better than the Person next To You does
When you prepare for your interview you should look at the positions in the company directly above the one that you are applying for. You can then use their dress code to determine what you should be wearing. When you dress for the job above your own this shows that you have drive to move up the corporate ladder. An example of this will be an interviewee for shift manager at Walmart could dress in khakis and a polo shirt, but going the extra mile and arriving in a suit and tie could stand you in better stead.
Going the extra mile and impressing the hiring manager with your attire is better. This is due to the manager seeing that you have an executive mentality. It is important that you research the dress code of the company before your interview and look at the higher up positions for inspiration. You will need to be careful and not go overboard when you try to dress for success.
Dress For The Part
Any actor can tell you that playing the role is more important than reciting the lines and they need to have a wardrobe that matches and compliments their performance. You need to keep this in mind when it comes time to dress for your interview as your attire is not about getting the job you want, but rather a part of the overall presentation of yourself. Hiring managers will make their decision in the first 10 seconds of an interview so your presentation needs to be flawless.
This will make it harder for the hiring manager to eliminate you from their list of potential hires. You should also ensure that you wear neutral colors and stay away from patterns. You should Google what current interview trends are and look for any videos that give you an idea. It is also important that you consider the climate of the office and your comfort.
Stay Up To Date
An interview is about sending a message and nothing sends a bad message like being in an outdated interview outfit which does not match the dress codes of today. This does not mean that you need to wear the latest fashion trend, but you should stay away from clothing that is more than 5 years old. Attire made up of fresh styles will send a message that you are in touch with current times.
Something else that you want to avoid is looking too casual and fresh. While the hiring manager will want young, fresh styles they do not want to see sandals, nose rings or an interviewee that looks like they are ready to go on a night out. You should not dress like you have just graduated even if this is the case as you need to dress like you have had a similar job or better. It is important to remember that you should stay away from older styles, but do not look too casual or like you are going to meet your friends.
Remember the Occasion
Wearing a suit and tie or other professional attire may not always be the best solution. There are some jobs that do not require formal attire and you need to remember that you are painting the picture of the perfect candidate with your interview clothing. The best way to avoid any embarrassment in the interview is to research. You should talk to some local recruiters and to the college education center. They will be able to tell you what the industry appropriate attire will be.
You also need to prepare for the climate and weather. Wearing a thin shirt and tie is not practical for the winters, but a dress sweater over your shirt will fit the climate perfectly. However, dress clothing could make you feel uncomfortable in the heart of summer. A rule of thumb is to dress the part, but make sure that you are comfortable in the climate.
Remember that you need to research the industry to determine the appropriate clothing. You also need to consider the season and climate. It is important that you are comfortable and not sweating while you are in the interview.
Stay Comfortable
Comfort is one of the most important things when it comes to interviews. A hiring manager will be able to tell if you are nervous and uncomfortable. The discomfort you feel could be coming from the new shoes that you have bought, but they will not be able to tell that. They could assume that the uncomfortable feelings are from a lack of experience.
When you decide what to wear to your interview you need to pick clothes that will help you get the job. You should not wear brand new clothes to the interview and a tried and true outfit will be much better. Break in your shoes before the interview and to avoid any embarrassing moments you need to remember to remove all the tags. A lot of people find modern orthopaedic shoes look practical and are also very comfortable and perfect for such an occasion.
Dressing for success is not difficult as you simply need to research what the dress code is and make yourself comfortable. Interview attire should complement the presentation that you are giving to get the job. You should also account for the weather.