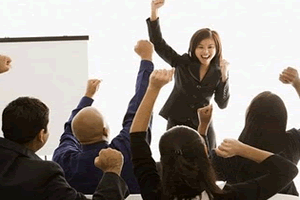 Here's a simple six-part "Power Plan" to help you make the most of your current career or find a new and more satisfying one in 2013.
Perform an internal audit. A comprehensive internal audit combines an individual's personal values, a list of adjectives outlining their "ideal employer," and a "perfect job description." Candidates should also do an honest assessment of their appearance, to ensure that they are optimizing "first impressions."

Update your job seeker's toolkit. It's vital to have a well-rounded "portfolio" of self-marketing tools to generate best results. Every job seeker needs written accomplishments, verbal presentations, professional biography, list of references, testimonial comments, letters of recommendation, and other items along with the resume.

Start networking. Develop a networking contact list, positioning statement (where you've been professionally), a departure statement (what happened to your last job), list of targeted companies, and a networking meeting agenda. Follow a structured, proven methodology for generating one-on-one networking meetings, and also attend select networking events and functions consistently.

Interviewing for success. Job seekers need to provide the interviewer with accurate, relevant accomplishment stories about job performance and tangible results. The interviewer needs to share the story of their company, describe the position in question, and explain specifically how they want you to fit into this picture. When the candidate's experiences and assets match-up with the employer's needs and problems, that's called a job offer!

Prepare to negotiate. Salaries are fully negotiable, even in the current economy. Perform extensive salary research and defer salary discussions until an offer seems imminent. Discuss salary only with the person who has the authority to negotiate the salary and hire you. And remember that your prior salary has nothing to do with the salary you may be offered in a new position.

Practice perpetual career management. Keep all your success documents up to date. Put time aside every week for active networking. Research and be aware of the competition. Offer to help people in your network. Build and maintain a high professional profile via social media, association involvement, speaking and writing in your niche. Always be engaged in career management, regardless of what your work situation is currently.

Don't wait for a career crisis to arise before you "get yourself in gear!"
7. Despite the current economy, many people are moving up the corporate ladder or finding excellent new careers. Those who are achieving success know how to "play the game" and are fully prepared for every step of the career development process. Anyone can find career success in 2013 by properly executing the steps I've outlined above.
This post is by Ford R. Myers, career coach, speaker and author of "Get The Job You Want, Even When No One's Hiring."