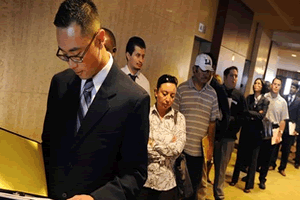 More employers are hiring in a hurry, making decisions within days or in some cases hours of meeting great candidates.
My new piece on Fortune.com tells how and why companies are doing this, and from many indications this is a trend that could accelerate in the next few years, as Baby Boomers and others retire or reinvent themselves. Companies are concerned if they don't hire quickly, their top candidate will move elsewhere or start their own enterprises.
So how do you as a candidate get snatched up faster, by a company that is determined to build its team quickly? The key, of course, is to be the kind of talent that looks like a $40 steak at Ruth's Chris Steak House –- so delicious and well-prepared that any manager will bite.
Here are some other ways to speed your hiring along:
1. Demonstrate why you're an excellent match to their job profile.

This is so crucial in any search, but for employers that are hiring fast they are going to be more attuned to their must-have skills and credentials. So skip the companies where you align with only two-thirds of the criteria and go after those where you're a match on nine-tenths. This means tailoring your resume to each position you seek, said Rick Parker, Snagajob senior vice president. "Applicable experience is consistently one of the top three things hiring managers look for in an applicant. Look at the desired qualities described in the job description, take stock of your experience and highlight what you have to offer in a unique resume."
2. Get there first.

The early bird really does get the worm. Half the jobs went to people who had applied in the first week, according to research by StartWire, which helps candidates track their applications and find connections. "People who apply earlier get hired at a greater rate than those who apply later," StartWire CEO Chris Forman told me when the get-in early research came out.
3. Get recommended by someone on the inside.

You're already a few steps ahead of those who come in cold, and according to data by Jobvite, candidates who are referred are hired faster than others. So come in recommended, and ask that person to move you to the front of the line. "Because referral applicants also tend to move faster, it's important to network, be connected online, and ask for referrals where appropriate. The more people you know, the faster, and more likely you are to get hired." said Jobvite CEO Dan Finnigan.
4. Prioritize your search.

Put in plenty of time and effort almost every day. "We're not suggesting that you work eight hours a day submitting applications, breaking only for lunch. But treating your job search with the same responsibility and enthusiasm that you plan to bring to work every day can help you get hired quickly," said Parker. Allow time for phone follow-ups, but don't contact employers during busy times (like 7 p.m. for a restaurant), he said.
5. Show up ready to talk to several people.

If you're at an industry conference, treat it as you would a marathon, not a series of short sprints. Employers that are hiring fast, and immediately, will want you to meet several people from different departments. You need to be prepared to sell yourself as effectively in round two and three as you did when you first drew the recruiter's attention. So stay alert and even if you're in a cocktail party, do not reach for that second beer that could slow your answers or slur your language.
Know what you want too, from your next job, so that you can ask the right questions to make a quick evaluation of the opportunity. If there's one or two must-haves or one deal-breaker, make those known in your interviews, in a way that's polished, polite and professional.
Finally, be ready to jump when the offer is made — companies don't want people who are testing the waters or looking for a way to get a counteroffer from their bosses. That could give you some momentum for a while, but may or may not help in the marathon that is your career.
Guest blogger
Vickie Elmer regularly contributes articles on careers and small business to the Washington Post. She has collected a slew of journalism awards, large and small. Her career and workplace articles also have appeared in Fortune, Parents, Kiplinger's Personal Finance, the Financial Times, the Chicago Tribune, Newsday and many more.
Do you have any other you can share, comment below?