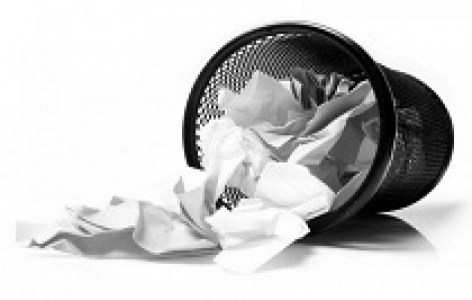 In today's economy, those searching for new jobs need to pay mind to previous tools and sentiments, such as looking professional and including a cover letter. However, certain errors and actions will get your resume thrown in the rejection bin. Keep your cover letter clear of the rejection bin with the following tips.
Use a Subject Line
Some use a salutation, such as "Dear Madam/Sir" to begin the cover letter, yet today's gurus, including the author of the 15-Minute Cover Letter, suggest using a subject line rather than a traditional salutation. It looks professional, and those seeking positions won't have to assume the sex or position of those reading and making decisions. Use a subject line, considering the name and proposed position.
Get an Editor
You don't have to hire a professional writer to compose and check your letter and resume for errors, yet don't assume that a blind eye to proper grammar will land the position. If you're not using free editing software, a professional service, or a friend who is thorough and literary minded, don't plan on getting the position. Get an editor, and let the cover letter and resume sit for a day or two before handing it over to a potential employer. If time is an issue, have a number of friends' emails ready for a quick turnaround.
Customize the Cover Letter
It's fine to orchestratea uniform resume and feature a boilerplate, or summary of qualifications, etc in your cover letter, but customize each cover letter to appear as if you have researched the employer and solely seeking each position exclusively. Whether employers assume they are one of many, you want to appear as if you're there for that specific position because you want to work for that company. Customize the cover letter and make a better impression on those with job openings. It takes a few extra steps and time in composing each cover letter, but customizing your approach and few paragraphs makes a huge difference.
Don't Show Weakness
If you have a weakness in skill set or a gap in periods of steady work, the cover letter is not the place to show weakness. The cover letter highlights reasons to get the position and appear more qualified than others. Don't give reason to question your ability to fulfill duties by mentioning weaknesses in the initial letter. Moreover, any weakness can appear as a present or future strength when relayed in the right way. Don't appear you can't fulfill the position or show weakness via the cover letter.
Be Succinct and Under One Page
A cover letter should not exceed one page, appear wordy, or include unnecessary information. In addition to minding your grammar, ensure the copy reads succinctly and gets to the point while being convincing and displaying the benefits of hiring you as an employee. Writing is an art and necessitates repeated editing and rewording. Make a great impression with the copy's succinctness and brevity. Take your time and don't rush the process. It's better to include a few paragraphs than compose a rambling letter. More is less when it comes to the cover letter.
Use Online Tools and Software
Online tools and software check grammar and proper syntax in addition to readability and grade level of writing. Those seeking upper management positions need to orchestrate different cover letters than those seeking a janitorial position. Free and paid online tools aid those who want to polish cover letters and resumes and construct them to fit job intentions.
Stay Away from Colloquial Speech
Don't "sound" like a businessman, trucker, oil salesman or other kind of person who uses colloquial speech. Whether you think your attitude, speech, and philosophies fit the position and industry, keep wording and tone professional. The cover letter addresses the benefits of hiring you rather than an opportunity to think you're 'cool' or 'typical.' The cover letter mentions proficiency in managing a MS SQL server, your ability to manage people, and awards received within your industry. You don't have to sound like a techie, lawyer, doctor, or guitar player. Just provide the facts and any information related to appearing better than the next candidate.
Cover letters entice employers to learn more about you rather than toss the rest of the resume and opportunity in the rejection bin. Stay away from colloquial speech; be succinct and grammar efficient; and, get another party to edit and make suggestions before handing over your cover letter and resume.
This has been a guest blog post

Eshna Verma is a writer at Simplilearn. She has done Masters in Journalism and Mass Communication and is a Gold Medalist in the same. A voracious reader, she has penned several articles in leading national newspapers like TOI, HT and The Telegraph. She loves traveling and photography.