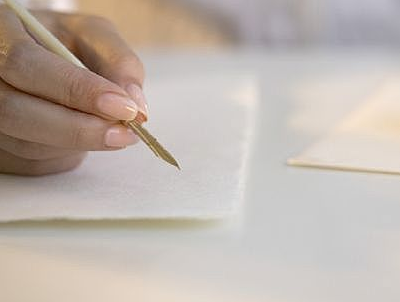 So, we're agreed that it's worth your time to write a cover letter to accompany your resume (see Why Cover Letters Count). Now you're facing the daunting task of making your cover letter worth reading.
Considering that a 2005 Society for Human Resource Management survey revealed that more than 8 out of 10 human resource professionals spend less than one minute reading a cover letter—and that was before the recession flooded the market with applicants, putting even more demands on hiring managers—how can you hope to catch a hiring manager's attention, let alone convince them to invite you in for an interview?
It might feel scary. Somewhat intimidating, maybe. Almost like asking for a date!
11 Tips For Creating Compelling Cover Letters
Don't worry. With these tips, you'll soon be creating a compelling cover letter that will help you land that interview:
1. Research the company.
Before you can start writing those brilliant sentences that will wow a hiring manager, try to figure out the company's challenges so that the accomplishments you mention will resonate with them. How to get these insights? Read recent press releases on their website and check out what their social media followers are saying about the company. Or Use Google, Yahoo! Finance, and Glassdoor.com to find out what the insiders are saying about corporate culture.
2. Plan your strategy.
Think about what the company needs, and the ways in which you can address those needs. Detail three brand attributes that set you apart from your competition that you want to be sure to cover.
3. Do your detective work.
Although in times past you might have gotten away with addressing a cover letter "To Whom It May Concern," I don't recommend it now. Today, hiring managers will appreciate you going the extra mile to use their name (and spell it correctly). Websites like jigsaw.com, Glassdoor.com, and LinkedIn, can help you locate who the decision maker is. If all else fails, "Dear Hiring Manager" may be your best bet, according to a recent Saddleback College Resume survey.
4. Introduce yourself.
Clearly state the position you're applying for, and why you feel you're a good candidate. And if you've been referred by someone within the organization, by all means mention it right off the bat.
5. Cut the fat.
Be on the lookout for redundant phrases, carefully examining the adjectives you choose. Avoid jargon, clichés, trendy words, or flowery language. In other words, no cheesy pickup lines!
6. Make your case.
Spell out exactly how your skills, work style, or personality relates to what is known about the company. Include clear statements that demonstrate how your unique value could provide benefits to the organization. Not sure how to do that? I have a sample cover letter here.
7. Quantify where possible.
Don't just say that you saved your company money or met all your sales goals. Be specific! "Saved $1.5 million annually by negotiating favorable vendor contracts," or "Exceeded new business growth targets by 20% or more every year" makes your value more obvious. Just don't be tempted to inflate your numbers – stick to the truth.
8. Evaluate your content.
Continue to ask yourself, "Does this strengthen my case for hire? Will they really value this information? Is this in alignment with my most important brand attributes?"
9. Finish strong.
Paint a picture of future success to get the hiring manager thinking about how you can fit into their organization. Then follow with a promise to contact them within a set time period, to see if they'd like to set up an interview. Don't worry: you're not being too forward.
10. Keep it short.
In the current era of texts and tweets, with readers' attention spans quickly shrinking, brevity is crucial. And, yes, since so many cover letters are now emailed in the e-note format, an effective length could be as short as a couple of paragraphs with several bullets between.
11. Pause before sending.
After finally finishing your cover letter masterpiece, you may be anxious to send it off right away. Don't do it. Take the time to read through it again to make sure you've made your case clearly and cleanly (with no typos). I also ALWAYS have a second set of eyes review what I've written.
Now that you know some of the secrets to writing strong cover letters, you can help ensure that your cover letter and resume score more interviews than those of your less-savvy competition. And I promise it will feel less intimidating with practice! Just like asking for a date.
About the author
Kristin S. Johnson is a TORI award-winning, 6-times certified resume writer, job search coach, and social media consultant. Her approach is cutting-edge, creative, and kind. As owner of Profession Direction, LLC, she works with professionals and aspiring executives across the country.
Photo Credit: Shutterstock