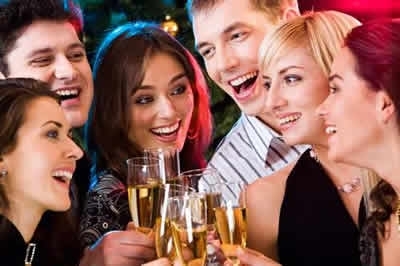 A fifth (20%) of UK employees report that their company will not have a Christmas party this year

One in three (33%) employees have done something they've regretted, with 9% saying that they have behaved or danced inappropriately at previous office Christmas parties

10% have made a resolution not to over-indulge at this year's Christmas bash
LONDON, 11 December, 2012 – With the party season now in full swing, a fifth (20%) of UK employees say that they are not having an office Christmas party this year. According to research1 undertaken by recruitment specialist OfficeTeam, a further third (34%) say that they'd rather spend time with close friends than with workmates, while almost a quarter (23%) believe they deserve a party after such a difficult year at work.
Almost a fifth of employees have already made resolutions about what they won't do at their party, with one in 10 (10%) resolving not to over-indulge. This rises to 15% for the 18 – 24 age group, but falls to 6% for the over 65s. Other resolutions include 'I will not behave inappropriately'; 'I will not record proceedings on my phone' and 'I will not post pictures on Facebook'.
UK employees' views on Christmas parties

I'd rather be socialising with my own friends instead of colleagues

34%

It's a great chance to let my hair down and have a good time with colleagues

28%

We deserve a party – it's been a tough year

23%

We don't have a Christmas party

20%

It's the only company-sponsored social activity this year

11%

It's a great opportunity to increase my visibility with other team members I may not ordinarily work with

9%

It's a great opportunity to increase my visibility with my boss

3%

It's a great opportunity to grab the boss and ask for a pay rise/increase in benefits

1%
Such resolutions can perhaps be explained by the 33% of people who say that they have regretted certain behaviour at Christmas parties the next day. Top of the regrets chart is 'behaved or danced inappropriately' (9%), followed by 'flirted with a colleague' (7%) and 'argued with a co-worker or boss (4%). Happily, only 1% of employees have regretted either 'resigning' or 'demanding a pay rise'.
Phil Booth, Director, OfficeTeam said: "The office Christmas party is still an important motivator for employees who have been working hard all year, so it's a shame to see that so many companies have decided not to go ahead with parties.
"For employees, setting resolutions to not overindulge or engage in questionable behaviour with colleagues and bosses might be a good first step to ensuring a smooth and shame-free Christmas party. While it's important to relax and let your hair down, we'd always advise people to take it easy at office functions, as overstepping the mark may become a career-limiting move."
1 Research undertaken by Vision Critical among 1,000 UK employees in December 2012.
About OfficeTeam
OfficeTeam is the worlds leading staffing service specialising in the placement of highly skilled office and administrative support professionals on a temporary and permanent basis. A division of Robert Half, the company leverages over 60 years of experience in providing recruitment solutions for companies across the UK and worldwide. Robert Half was named one of the Sunday Times' 100 Best Companies to Work For and figures on FORTUNE® magazine's "World's Most Admired Companies" list, ranking #1 in its industry. For more information visit officeteamuk.com and twitter.com/officeteamuk.
Tell us about your views? comment below!