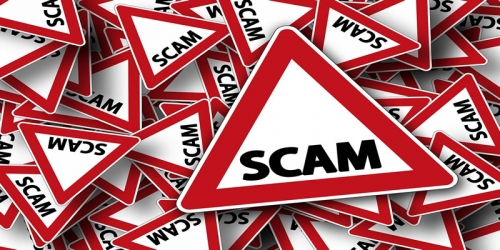 With so many people on the job hunt in the current recession, there are unfortunately others who want to take advantage of the situation. We have heard of warnings about a rise in scams involving unauthorized money transfers from hackedonline bank accounts to what it calls "money mules," which are people hired through work-at-home scams to help cyber criminals overseas launder money. But its not just people working at home--scams are rampant everywhere--and they are targeting those looking for jobs.
Avoid getting tangled up in job-search scams.
1. Dont pay a dime. While some job websites may charge a fee to join, be leery and do your research on them. And when it comes to paying for uninsurance benefits, never do it. You should never have to pay for a job or give money upfront to get one.
2. Pay attention to email addresses. A legitimate company will not use a hotmail.com or gmail.com server. So if you see them and are encouraged to apply, try doing a Google search of the entire email address to see what comes up. In addition to links that claim to be for a companys website, dont call a number that they give you. It could be a phishing scam that directs you to a bogus Web or telemarketing center in an attempt to gather more personal information from you.
3. Do your research. Another way to investigate a company that is mysterious with details is to research the phone number on a website like Hoovers.com. You can also do research online about popular job-related scams, or contact the Better Business Bureau to verify if a company is legit.
4. Guard your personal information. If job scammers get a hold of your personal information, identity theft can likely follow. Job applications can request your name, address and phone number, but when they start asking for your Social Security number (unless its on a corporate websites secure server), you could be in trouble. If youre not sure about the job outfit, dont give out your information. This can be a double-edged sword, as many legitimate companies request the information. Calling the companys human resources department to ask for confirmation of a secure policy. Many recruiters will understand that you as a job-seeker are just trying to safeguard your information.
5. Be aware of federal job scams. Yes, the federal government is hiring and many scammers are taking advantage of that by offering fake test-practice materials for nonexistent exams. They also try to get credit card numbers by claiming to sell informational packets to help you get a government job. For legitimate information about federal jobs, go to the USA Jobs website or check out Kiplinger.com for Marty Nemkos Land a Government Job Now section.
Here at Purejobs we dont allow recruiters or employers to post jobs using Gmail or hotmail, and less the company can be verified, the site is heavily monitored to protect our users.
Have you ever been caught out by a job scam, please provide you experiences or views on this?