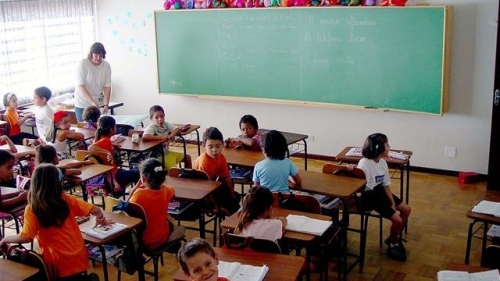 Whether you're a college student, a recent graduate, or an adventurer who wants to live overseas, teaching English abroad can be a great way to immerse yourself in a different culture. However, getting an English teaching job isn't as easy as hopping on a plane. You'll want to obtain certification and you'll need to compile the appropriate documents before heading to another country. Also, you want to make sure you'll get a position with a reputable organization — so, it's important to ask the right questions before you accept a job.
English as a foreign language (EFL) teachers come from a variety of backgrounds. Some have professional degrees in teaching English as a foreign language (click here to learn about an EFL master's program), and others earn their certification because they want to experience life in another country. No matter what your background or motivation for teaching, you can take proactive steps to increase your chances of having a positive experience.
What Documents Will You Need?
Before heading overseas, pack the following documents:
Passport Birth certificate College diploma Teaching certification Proof of health insurance
In addition to keeping the originals, make copies of your critical documents and have those copies notarized. Health insurance matters more than you may realize; you'll have difficulty finding work without it.
Do You Need Certification To Teach English Abroad?
Earning EFL certification is essential for landing a good job with a reliable organization. The Peace Corps, a missionary organization or a nonprofit may allow you to teach without certification, but you could end up in some dangerous environments.
Additionally, when you earn your certification, your program may help you to find an overseas teaching job or direct you to a reputable recruiter. You'll meet other people who are teaching EFL in certification programs and you'll have the tools necessary to provide your students with the high-quality experience they deserve.
If you decide to earn certification, then you may find programs in some of these places:
Local universities. A college or community college in your town may provide intensive certification courses. If you want to earn a professional degree anyway, then you can also consider earning your master's degree in teaching English as a foreign language. FAST TRAIN. This certification program is designed to provide English-teaching credentials to spouses of foreign affairs workers. Online courses. Many private programs offer certification for teaching English, and these programs feature an alphabet soup of acronyms: Teaching English to Speakers of Other Languages (TESOL), Certificate in English Language Teaching to Adults (CELTA) and Teaching English as a Foreign Language (TEFL). Make sure you verify the provider's reputation before paying for courses. Overseas. Most major cities around the world offer certification courses and obtaining certification where you hope to teach may help you to save money — just make sure your visa will last long enough to give you time for both training and job hunting.
How Do You Find A Good Job?
Once you've chosen where you want to teach, you can either apply for jobs from home or move to your desired location. If you choose to move, then take more money than you think you'll need. In many locations, you can only get a temporary visa without a job, so make the most of your time. Target your location before leaving and start job hunting as soon as your plane hits the tarmac.
During any job interview, ask for the names and contact information of three current or former teachers. If the employer fails to provide those references, then consider working elsewhere. Also, ask about which days you will work, your class schedule, how much your teaching is observed and whether extracurricular activities are required. Ask whether the school has had conflicts with past teachers and be wary of schools that promote a "secret" or "special" curriculum.
Finally, never underestimate the value of networking. Check and contribute to reliable EFL teacher forums, such as Dave's ESL Café, for both insider accounts and potential job openings. As with any job, sometimes it's less about what's on your resume and more about who you know.
Photo Credit: Shutterstock