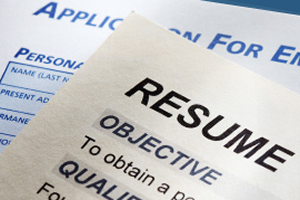 The first challenge with your resume is getting it in the hands of an actual person.
Over the past decade, getting through applicant tracking systems (ATS) by including the right key words has become the holy grail of job seekers. The palace guards were put in place so that overloaded hiring managers could keep out the riffraff.
And it was necessary.
Surveys report that more than half (some say a LOT more than half) of the resumes submitted for any job posting are from completely unqualified candidates. The ATS is meant to boil down the deluge to an actual candidate pool.
As a job seeker, you should be concerned with and aware of how your resume will make it past the guards.
As a serious professional, you need to take your resume further. Make sure that when it makes it to the hands of an actual person, it will impress and get you to the next step.
That's Why You Need These 4 Tips For Writing A Powerful Resume:
1. Lead With Results.
Look at your resume as if YOU are the hiring manager.
Does this resume help solve the problem that needs solving with this position? Not just the "Because Henry quit" problem. The thing that makes this position valuable to the company.
Your resume must show how you are the solution because you've done it before. Structure your experience so that each sentence is front-loaded with results.
Instead of . . .
"Evaluated current processes and led efforts that restructured operations, leading to a reduction in costs and an increase in revenue."
Try . . .
"Slashed overhead costs 20% while simultaneously increasing revenue 45% by completely overhauling sales processes and operations for optimal efficiency."
If you think like management, you can pick out what management most cares about, and make sure you highlight that.
2. Quantify. Quantify. Quantify.
In other words, use numbers. By adding figures to your accomplishments, you provide measurable, credible proof of your performance.
"Added $4 million to the bottom line…"
Beyond showing revenue, numbers can help provide context of your results through comparisons.
"Ranked #1 out of 45 sales reps for top sales performance"
"Achieved 95% customer referral rate, a figure 2 times higher than the company average."
"Conducted company-wide training for 500 employees."
This is one of the things a lot of people struggle with, but it is vital. Quantifying your accomplishments solidifies them in the mind of the reader. It turns an abstract statement into a hard fact.
3. Get Active.
Fill your resume with verbs that convey energy and action. Carefully selected verbs also help you create concrete statements that create a visual for the reader.
Instead of: "Put in processes that led to a significant reduction in costs."
Try: "Decreased costs by devising efficient sales process."
But be careful. Don't use the same verbs over and over. Do the work and find powerful synonyms.
4. Trim The Fat.
This may be the most important tip to creating a powerful resume that will get read and noticed. The hiring manager or recruiter will possibly have dozens of resumes to review, so make sure yours is easy to get through.
Write succinctly, be specific, edit out filler words, and trim the unnecessary detail that doesn't add to your qualifications for this position.
Review and edit. Then review and edit again.
The digital age has brought challenges to the job seeker, but they can be overcome. Spend the time to create a powerful resume.. Make sure it gets the attention that it deserves.
If you've written a resume but want a second opinion and help making it the best it can be, I'm happy to provide you with all my best advice acquired through my 20-year career as a professional resume writer. Just book a resume consultation with me. We'll review your resume together and I'll show you exactly how to transform it into a powerful, results-generating resume.
About the author
Michelle Dumas founded Distinctive Career Services, LLC (formerly Distinctive Documents) in 1996, one of the Internet's longest-standing resume writing, personal branding, and career marketing firms. As one of only a handful of multiple certified professional resume writers, including the prestigious NCRW, CPRW, CPBS, CEIP, and JCTC credentials, Michelle is widely respected as an authority in the resume writing and employment services industries.
Photo Credit: Shutterstock