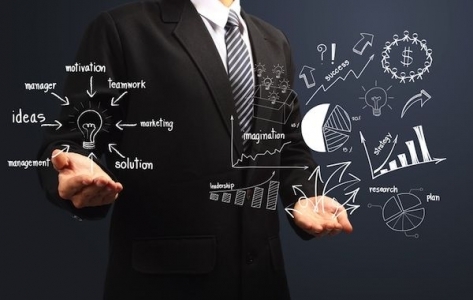 Imagine that two people are playing basketball. The first player is constantly checking out his opponent and adapting accordingly. The second player has a blindfold on, and in those moments when he manages to grasp the ball, takes wild shots at anywhere but the net.
Who do you think will win the game?
The same principle applies for LinkedIn: developing a profile without benchmarking the competition first is like taking wild shots at the basket. You need to know what's working (and what's not), and adopt the tactics used by people who currently have the job you want to maximize visibility.
Identify Competitors
Click on the "Advanced" option next to LinkedIn's search bar. This will pull up an "Advanced People Search" box where you can insert search terms across a broad range of areas (you get more search options with a Premium Account). Start filling in relevant criteria designed to bring up profiles of people who have the job you want. For example, if you're after a Chief Marketing Officer position, insert the term "Chief Marketing Officer" within the "Title" box, and select the "Current" option beneath it to make sure only people who presently have that job will show up in results. Specificity is key. Select your target industry (or industries) within the "Industry" tab. Insert a relevant postal code to confine search results to a certain area. Also use the "Keywords" box to insert key skills and aspects of your background to bring up closely aligned professionals. For LinkedIn users with Premium accounts, the "Years of Experience", "Seniority Level" and "Company Size" options should also be experimented with. Now hit the blue search button!
Benchmark Profiles
Review the profiles which show up within the first 1-3 pages of results. Your goal is to answer the question: what makes these people stand out, and how can I stand out in a similar fashion?
Consider the following areas:
LinkedIn Headlines.
How do high-visibility competitors brand themselves? What are they calling out? Ex. "Pharma Sales Leader with a talent for launching new products and hitting multimillion-dollar targets." FYI, if your LinkedIn headline only lists your current job title, now's the time to replace it with a personalized headline that more accurately defines your brand.
Summary Section.
How do they tell their stories? What metrics are used to quickly establish credibility? Brainstorm ways to revise your own Summary section accordingly.
Experience Section.
Which aspects of their career receive the most attention? Does it give you ideas for accomplishments YOU can include?
Skills Section.
Having the right keywords present within your LinkedIn Profile can make a HUGE difference in your visibility. Pull up at least 5-6 competitor profiles and start listing all of the keywords they've included within this section (which you possess). Now add them to your profile. LinkedIn lets you add up to 50 keywords.
Add-On Sections.
These are a great way to add "keyword density" and improve search ranking. Take a look at sections like "Projects" "Organizations" "Volunteer Experience & Causes" to get ideas about information you can fill in these areas.
Groups And Companies.
What groups are your competitors a member of? Which companies are they following to stay apprised of new opportunities? Join all which are relevant. You can join up to 50 groups and follow up to 1000 companies.
Test Improvements
Here's a great way to see if your profile changes are working:
Go to your LinkedIn Profile Page and click on the "View Profile As…" button beneath your profile pic and headline. You'll now see how your profile page looks to connections. Scroll down and check out the "People Also Viewed" and "People Similar to You" sections. How relevant are the people who are turning up in these two sections? Are they representative of where you want to go next professionally, and in-line with your industry? This is a clear sign that you are optimizing your LinkedIn presence correctly, and consistently turning up in more search results by employers and recruiters.
About the author
Anish Majumdar, CEO of ResumeOrbit.com is an executive resume writer, LinkedIn expert, and interview coach. He has helped thousands of job seekers land 6 and 7-figure positions through strong career platforms and breakthrough search strategies. His articles have appeared in leading industry publications and some of the most influential career advice websites today.
Photo Credit: Shutterstock