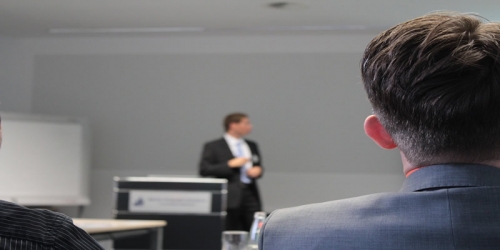 It's inevitable. You're going to experience some pretty awkward situations at networking events during your lifetime – no matter how comfortable, cool, and collected you may be. In fact, you might be the most suave professional at the party, but if you don't know how to handle the following situations, you can find yourself in some pretty tough spots.
You don't have to be James Bond to be suave, but you do need to know how to handle these awkward situations (because they happen to all of us).
When you introduce yourself to someone you already know…
… Apologize and laugh it off. Whether you met this person at the last event, exchanged tweets with them online, or were best friends in high school, the best way to handle this situation is to own up to it, laugh at yourself, and say you're sorry. It happens, and people generally understand.
When you start talking to someone you know, but forget his or her name…
… Ask for his or her business card. This allows you to find his or her name on the card AND if gives you an excuse to exchange cards. Even if you've already collected it and lost it, just admit that you misplaced it and would like another. I can't tell you how bad I am with names. It's hard to remember sometimes, especially when you're meeting so many people at once in a loud, crowded room. Whether you didn't hear it the first time, don't know how to pronounce it, or simply didn't remember it, this can put anyone in an awkward spot. Worse case scenario, you just admit that you're "having a moment" and that you're "totally blanking" on his or her name. (If you need help remembering names, try this networking hack.)
When there's an awkward silence after introducing yourself…
… Start asking questions. You might be an excellent conversationalist, but the person you're meeting might struggle in this area. If you're having a hard time getting this person talking, things can get pretty awkward, pretty fast. To avoid an uncomfortable awkward silence, take control of the conversation by asking him or her icebreaker questions.
When the other person won't let you get a word in edgewise…
… Move on to someone else. If the person you're talking to hasn't taken a moment to take a breath in 10 minutes, consider gracefully exiting the conversation. Unfortunately, there are going to be people who just hog conversations, which isn't fun and it can eat up all of your time at the event.
When you need to get out of a bad/boring conversation….
… Have a good reason. Politely interject, give your apologies, and tell them you need to catch up with someone before they leave, want to grab another drink, or need to use the restroom. Then, if you'd like, exchange business cards and follow up with them later.
When you feel cornered by one person…
… Bring someone else into the conversation. Sometimes, people don't realize that they're making you uncomfortable by cornering you in conversation. If they don't pick up on your body language, try including someone else into your chat. This way, they're meeting someone else and you have an opportunity to exit the conversation gracefully.
When someone goes in for a handshake and you go for the fist bump…
…. Uh, sorry, that one is just a poor personal choice. Make better decisions! In all seriousness, though, always great people with a handshake, unless they come at you with a high five or a fist bump first. Otherwise, it's just awkward city.
There are always going to be awkward situations at networking events – it's just going to happen when strangers are meeting other strangers. But if you can handle them with confidence, you'll do just fine. Go into your next event prepared!