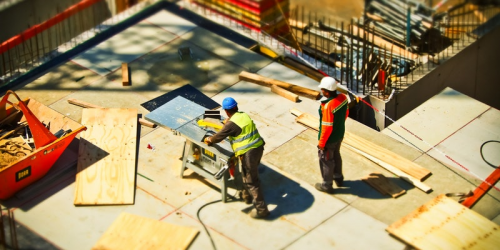 Recruitment is an exciting and fast-paced industry, which means keeping up with the latest industry news can be challenging. This is even more relevant if you have an industry niche, such as construction recruitment. So we have compiled the 7 things you need to know about Construction Recruitment, to make finding that perfect candidate-client pairing easier.
#1. Industry Insight
There is such a huge realm of opportunity when recruiting in the construction sector, and you might find that people need guidance on where to look. So you need to make sure you brush up on your industry knowledge, from bid writers to site managers to quantity surveyors. You need to be the expert in your field. If you know what you're talking about then you'll be better suited to find the right candidate.
#2. Breadth of the Field
Following on from the above, you might work with clients from every walk of life. Novo UK have construction clients from £100,000 to £500 million with a hugely varied client base. So matching them with the right candidate is the key to success. Tailoring your performance to candidates and clients will help put you one step ahead.
#3. Communication
This isn't just limited to construction, but it's very important that you always keep up communication, both with the client and the candidate to ensure trust, honesty and a good working relationship on all sides. If both parties are happy then it means you have done your job well. This is the key to success in all areas of recruitment.
#4. Bespoke opportunities
AtNovo UK, their Main Contractor clients consist of smaller businesses as well as multi-national, multi-million turnovers. This wide range means that it allows them to create exciting opportunities for candidates in many different environments, instead of just selling the jobs available. These bespoke opportunities create excellent relationships between client and candidate, which will ensure future opportunities for everyone.
#5. Play an active role in the industry
It's not enough to just have knowledge in construction. If you're hiring for a niche role within the industry, then you need to learn as much as you can about that particular role. You want your candidates to be calm and excited about the opportunity, not wondering why their construction recruiter is taking so long to reply! So keep up to date with industry news sites, follow key figures in the field and keep an eye on what construction candidates are up to.
#6. Know the ins and outs
Relevance is so important when it comes to construction recruitment. Do they mean trainee quantity surveyor as entry-level or with work experience, too? These are the questions you need to think about when putting together a job description or working from a client brief, as these differences can depend on which candidates would be most appropriate.
#7. Have fun with it
Construction recruitment is still a growing industry, so there is a whole spectrum to explore of areas to get involved with and master, before pairing clients to their perfect candidate. You can explore Novo UK's wonderful opportunities to get involved with theirMain Contractor Recruitment so you can start your journey by finding exciting and interesting new roles for candidates from a variety of backgrounds and specialties, as well as clients ranging from very small to very large.