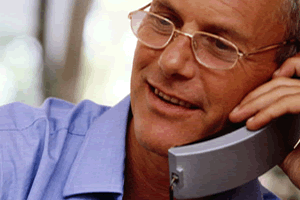 Asking questions in your job interview not only makes you stand out in positive ways, it also helps you find out things you need to know (during the interview and before you take the job).
Ask These 7 Questions…
Asking these seven questions in your job interview will put you miles ahead of your competition and give you a better shot at the job:
1. If your ideal candidate walked through the door right now, what qualities, skills, or experience would they have?
Why would you ask a question like this and potentially highlight how you're not perfect for the job? It's because there is no such thing as the ideal candidate. They can wish all they want, but they probably won't get it. Where you benefit with this question is that when you hear what's important to them, you can then talk about those or similar things in your own experience—which elevates you as a candidate. It's almost like getting a cheat sheet for your interview answers.
2. Was the last person in this role successful? Why or why not?
Knowing the story of what happened to the last person in this job is important. First, it will help you better answer their questions. If the last person didn't do well, you can talk about how you would do it differently. If the last person did spectacularly and got promoted, you know what you need to do to be considered successful. Second, you may even discover a few clues that will help you determine if you want to take this job or not.
3. What will a typical day look like in this job?
Their answer to this will help you determine everyday tasks as well as company culture. Is this somewhere you can fit in and be successful?
4. What are the biggest challenges going to be for the person in this position?
When they talk to you about their biggest challenges, you'll know exactly what stories to tell about how you have tackled (and conquered) similar challenges. You will be showing them that you are a great fit for this job.
5. Based on our conversation so far, can you see me being successful in this role?
This question should be asked toward the end of the interview, when the conversation starts to wind down. If the answer is yes, you know that when you leave, they will be working towards hiring you. If the answer is no, you can find out what's holding them back and you may be able to clear up the issue and save your job offer.
6. Is there any reason you wouldn't hire me?
If you can't ask question #5, then you have to ask this one. You must find out before you leave that room if they have any doubts about your ability to do that job. If you leave with those doubts unresolved, you won't get the offer. It can be scary to ask this question, but it's better to know now when there's a chance you can say something to change their mind.
7. What's the next step in this process?
Absolutely never, ever leave an interview without knowing what and when the next step is. Employers expect you to ask about it. If you don't they may assume that you're not that interested in the job. So, ask it to let them know you're interested and to give yourself some peace of mind about what to expect.
Find out more questions to ask, how to research the company, best interview answers, and cutting-edge interview tips in our Free Job Interview Prep Kit.
About the author
Career Coach – Peggy McKee is an expert resource and a dedicated advocate for job seekers. Known as the Sales Recruiter from Career Confidential, her years of experience as a nationally-known recruiter for sales and marketing jobs give her a unique perspective and advantage in developing the tools and strategies that help job seekers stand head and shoulders above the competition. Peggy has been named #1 on the list of the Top 25 Most Influential Online Recruiters by HR Examiner, and has been quoted in articles from CNN, CAP TODAY, Yahoo! HotJobs, and the Denver Examiner.
Photo Credit: Shutterstock