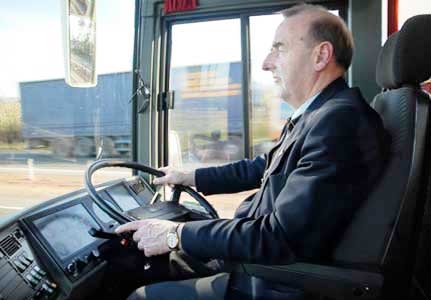 Every passenger has a story.
One of them is on his way to a make-or-break business meeting. Another one is nervous – she's on her way to starting a new life in a new city. A family is on their way to warm weather, soft sand, and grandma's house.
As a bus driver, it's your job to relieve the businessman of unnecessary travel worries so he can focus on his meeting, greet the scared young woman with a warm, comforting smile to help ease her nerves, and provide the family a safe trip to the airport so the kids can get to grandma's in one piece.
Great bus drivers don't just drive, they care. They go beyond the job description to ensure they're passengers have the best experience possible on their journey – no matter where they are going or what their story is.
But what are some other qualities that make great bus drivers? If you want to be happy, appreciated, and confident in your position, it's important that you have a few key personality traits. Here are some qualities that make a great bus driver:
1. They're personable.
As the driver, you are acting as the face of your bus line's brand. And, while your driving skills are a crucial part of that brand, your ability to interact with your passengers is also very important.
"The driver's first interaction with the passenger begins even before entering the coach," said Jamie Lesniak, Vice President of C&J Bus Lines. "A friendly smile goes a long way."
It's your job to make every passenger feel welcome, comfortable, and appreciated. People remember kindness and friendliness, and if they have a positive experience, they will likely come back.
"We prescribe to selling more than just a bus ride, but an experience," said Lesniak.
2. They're willing to lead.
"Our drivers are leaders," said Lesniak. "They are the captains of their own ships (or motor coaches)."
Are you a born leader? Do you enjoy taking the wheel (pun intended!) when things need to get done?
All great bus drivers are natural leaders. As a driver, you're in charge of the well-being of a bus full of passengers. So, having that ability and confidence to lead is essential.
3. They're calm under pressure.
Bus drivers have no control of those around them while on the road, and must be ready for anything that might cross their paths.
A few challenges bus drives might face include:
Poor weather conditions Disgruntled passengers Road rage Poor traffic conditions
Your first priority as a driver is the safety of your passengers. Being able to make rational decisions under pressure is a key quality in great bus drivers.
4. They're dedicated to their work.
Having passion for your work is a major part of your life happiness. The majority of the workforce spends about one third of their lives working, so you need to make sure you're doing something you love.
The best bus drivers are not only dedicated to their work, but they're also proud to be drivers.
"Their focus and attention [are] crucial when behind the wheel," said Lesniak. "For this reason, they must present a strong desire and passion for the position. Something they would be proud to do, and not just do for reasons of the financial benefits."
5. They're respectful of others.
The foundation of a great operation is a great team. So, in addition to showing the utmost respect for their passengers, great drivers also treat their colleagues with respect.
"As a driver, you are part of the team, a voice, and not just another number," said Lesniak.
In the end, great bus drivers care. They care about their passengers, their colleagues, and their work. Every passenger has a story, and every bus driver has the opportunity help make it a great one.
Photo Credit: Shutterstock