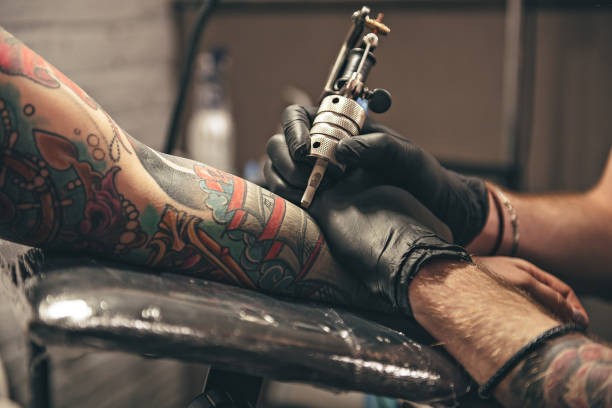 Do you have a talent for drawing and a skillset in the arts but unsure how to make a career out of it?
Do you enjoy drawing out designs with extreme attention to detail or find yourself sketching often?
If all of these elements apply, then heading towards the path of becoming a tattoo artist might be the best option!
Are you interested in learning more? If so, continue reading to find out about how to become a tattoo artist!
How to Become a Tattoo Artist
Most states offer certification courses to become a tattoo artist. It is best to gain the education necessary to be the most successful artist in the tattoo industry!
Tattoo college and schooling will offer valuable tools to learn about including, disease prevention, skin diseases, and infections.
It is important to understand the science and skin reactions that may occur, as this can be a requirement to getting a license. Tattoo schools will provide hands-on experience with tattooing real bodies.
Schooling will also offer the opportunity for mentorship and training in linework, shading, and color blending.
This educational journey is not a full requirement but it surely will give anyone the expert skills, knowledge to create beautiful tattoos, and a great reputation in their community!
To learn from the experts on how to become a tattoo artist click on this site https://www.floridatattooacademy.com/become-a-tattoo-artist/.

Before an aspiring tattoo artist can start their job they must complete a portfolio. This will be necessary before beginning to work at a shop with an apprenticeship.
The portfolio will reveal the artist's ability to draw a wide arrangement of subject matter. The artist can show various mediums like photography and drawing.
The artist may also consider including a cover letter and resume with their portfolio when applying for an apprenticeship.
To become a tattoo artist with a license, it's crucial to complete a tattoo apprenticeship.
The Alliance of Professional Tattooists, or APT, recommends that each artist be an apprentice for three years.
The apprentice will be able to work alongside tattoo artists in the shop and learn the functions of the machinery and how to sterilize equipment.
Rarely are apprenticeships free. It usually costs around $5,000 to $10,000. There is a contract agreement that the artist will sign.
Make sure to do some research and choose a mentor that follows all of the health and safety regulations. Do not choose anyone from any shop.
Types of Equipment to Use
Before going out and buying a load of materials, remember to check in with a mentor to see what to get first.
Some of the items an artist should have are rubber gloves, stencil paper, foot switch, and ink pigments.
This will vary state by state, but it is best to have a license. The artist must complete a number of hours under training as well as create a minimum amount of tattoos.
The Benefits of Learning How to Become a Tattoo Artist
Anyone can be an artist, but to become a tattoo artist there are specific skills and qualifications to gain before beginning.
This is such a special and unique career to be apart of and will be fulfilling to any creative person!
Do you enjoy this blog post? If so, make sure to read more from our career category!