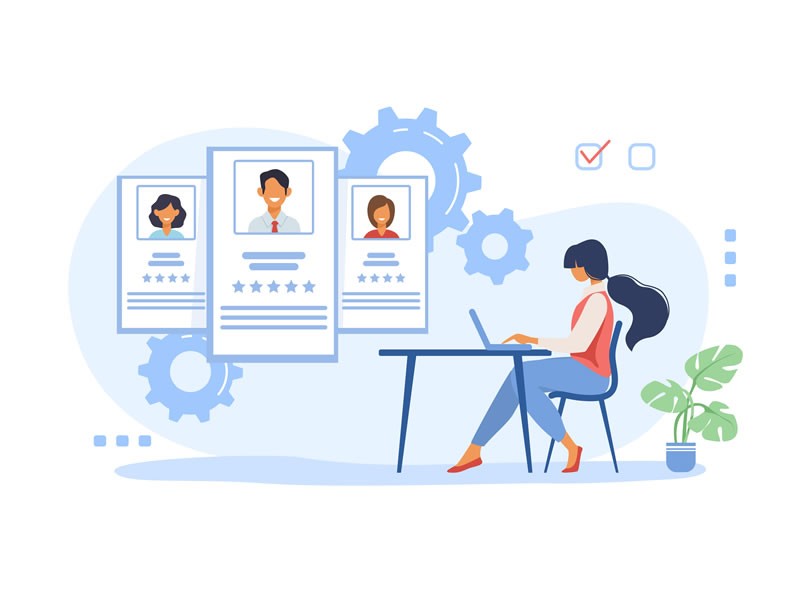 Marketing is mostly used to attract buyers and make sales within a business, but there's more to this strategy than simply appealing to the consumer base. Many business owners underestimate the power of a marketing strategy to seek prospective candidates for job roles. Thanks to the various methods of marketing that are now available with the progressions of technology, it's easier to target the most suitable candidates that may never have reached out to you before.

Today, consumers of all kinds expect businesses to be engaging and responsive when it comes to marketing and within the recruitment sector. Ultimately, marketing presents a generalized view of what the company is about and why candidates should have the ambition to work for your business.

Any business owner will know that great talent is hard to come by – especially small businesses that may not be well-known in the field. However, any successful business begins with sourcing a vast pool of talent to give it that competitive advantage over other firms.

Why is recruitment marketing important?

Sometimes, it's hard to determine whether some business strategies are crazes that will dwindle over time, but if one thing's for sure, recruitment marketing is here to stay. Why? Quite simply, the best candidates are not actively looking for new positions and are unlikely to ever be spotted. If they're settled in a company and aren't looking towards their next venture, it's doubtful they'll be spending their free time sifting through job advertisements.

To put this perspective, only 36% of candidates are on the job hunt at a single point in time, meaning that businesses in the same field are always in competition with one another to select the best talent.

The recruitment strategy

The recruitment strategy is typically carried out in four steps, as follows:

1. Entice

The central aspect of any marketing campaign is to attract the audience you're hoping to target.
Ultimately, candidates need to gain an understanding of why they should consider applying to your business, so you'll need to think intensely about company branding, culture, and values.

These aspects are critical when candidates are being contacted by a company, as they'll need to make a tough decision as to whether they should give up their current job role. Companies that focus on culture and values are driven to seek employee satisfaction, which gives the impression that it's a positive and motivating place to work.


2. Connect
Once you have built a captivating story around your brand, it's time to actively reach out to the most suitable candidates. At this stage, it's all about having strategies in place to build long-term relationships.

Connecting with candidates may not occur instantly, and there may be many occasions when your method isn't successful. In this case, it would be a good idea to create a database to carefully analyze which were the most successful practices of your marketing campaigns and perhaps those that didn't work so well. This will help you improve your recruitment marketing campaigns in the future and be sure as to where the most talented candidates are typically sourced.

Data analytics is one of the most crucial skills that can be used both in recruitment and standard consumer marketing. Without any academic qualifications in this sector, it can be difficult to process data and use it to make the necessary changes in your improvement strategies. Emerson College offers online courses in Digital Marketing and Data Analytics that can be studied 100% online, so you can work the course around your business. Click here to find out more.


Some questions you may like to consider for the database, include:
●When are the most common times slots that candidates respond to messages?
●Which social media platforms reach the most suitable candidates?
●Have job fairs proven successful in your marketing campaign, and is it worth attending them in the future?
●Is a talent network advantageous, and how can you use it to attract candidates?



3. Engage

Engagement is arguably the most essential part of the step-by-step process in recruitment marketing. Once you have managed to attract and connect with the candidate, you'll need to engage their interest by giving them an offer they can't refuse. Ask yourself what makes your business different from others in your industry and jot down notes which can be used for your pitch.

You'll need to go into more detail about the company and yourself as the business owner. The mission is to build long-term relationships with candidates so that even if they aren't ready to give up their current position right now, they'll remember you when the time comes to move on. Aim to deliver a personalized experience for each candidate you contact so that they feel appreciated, rather than just one of a number.

4. Develop and adapt
Once you have all the basics in place, your marketing campaign is ready for release. Essentially, without having a deep understanding of how your recruitment marketing is performing and how it is affecting the company's goals, it's unlikely you'll source the best pool of talent.

If you notice that there are aspects of your recruitment marketing campaign that need work after contacting several candidates, don't be afraid to conduct online surveys to help you improve your strategies next time around.


Recruitment marketing techniques you can't ignore

Techniques you can't ignore

Now we have covered the basics on the angles to take within your recruitment marketing strategy, we're going to provide a list of some of the best platforms and tactics you should be using within your campaign:

Social media

Social media has gone far beyond just a personal platform to connect with friends. Businesses across the world are now using it to source the best candidates in the industry. Entrepreneurs use platforms such as Facebook, Twitter, LinkedIn, and YouTube to share news about their company and possibly connect with candidates.
Likewise, prospective candidates also scour social media sites to get an in-depth overview of companies they're interested in and are on the lookout for specific factors such as workplace values and company branding.

Global firms such as Microsoft take pride in their company culture and have used social media to their advantage to show off a desirable workplace environment. The company achieved this goal by conducting interviews with staff and publishing videos of the office set-up.

Improve job ad content
While passive candidates aren't actively looking at job advertisements, they may unintentionally come across postings online while browsing search engines. With this in mind, it's always an idea to learn the basics of how to create gripping job ad content:
●Make job titles short, sharp and clear
●Don't use symbols in titles – it comes across as unprofessional
●Keep job descriptions brief (up to 800 words maximum)
●Mention the best employee benefits your company can offer
Email marketing
Email marketing is considered an outdated tool in the marketing world; however, it's a valuable device for recruitment. When emails are opened, you have the viewer's attention in the palm of your hand. According to a study, 85% of recruiters now use email marketing within their recruitment campaigns to source the most suitable candidates and build long-term relationships. However, with over 144 billion emails sent daily, how are you able to create an email that's identified, opened, and replied to?Unfortunately, it's not as simple as sending a quick email with a job offer attached. In essence, you'll need to plan a strategy that will draw the eye of the recipient, entice them to open it and hopefully encourage them to reply, rather than send it to their junk.

Refresh your website

On a digital basis, your website becomes your main identity. It's the first platform a user will come across when browsing your brand name on a search engine, while other digital platforms such as social media, SEO, and job ads will direct them straight to your home page.

Once there, they will want to find out more about your company – and fast. You need to ensure your website is user-friendly and well-designed to provide the best experience. On average, a user will only spend 10-20 seconds on a website, so it needs to make a positive first impression almost instantly. If they like what they see, even the most passive of candidates may be keen to send a casual message on the 'contact page' to get details on available vacancies at your company.

There is no end to the tactics you can use to create a successful recruitment marketing campaign– it's all about being creative to find the best talent for your business. You may discover that some strategies work better than others in the early days of testing. Still, this experience will only bring a sense of clarity to your campaign, as you can get a better understanding of what is working great and where your priorities should lie going forward.
We hope this guide has given you some useful advice to put your recruitment marketing campaign into practice and we wish you the best of luck!