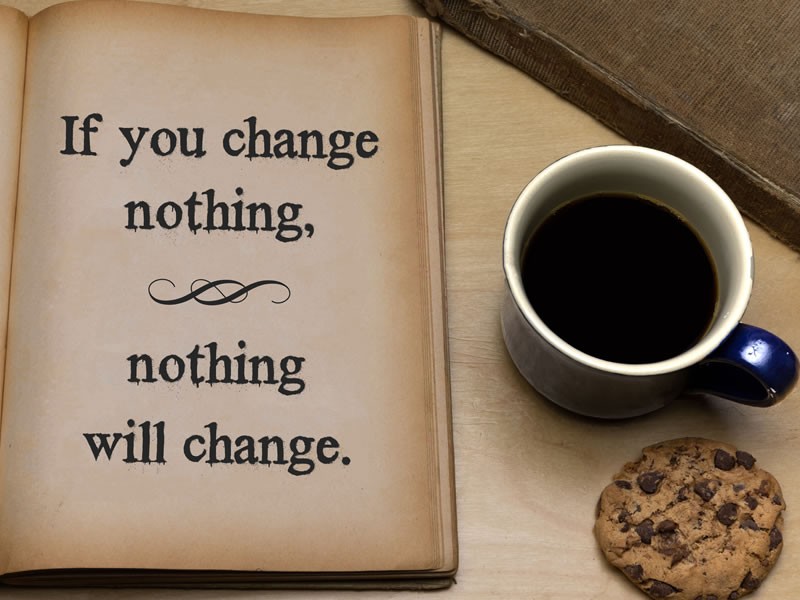 If you are feeling dissatisfied with your current job and are looking for a bigger and better challenge, it might be time to consider changing your career. However, doing so might feel a little daunting, and you might be unsure how or where to get started.
If you are ready to embrace a new opportunity in 2019, check out the following nine steps to take to change your career successfully.

#Step One: Don't Stand in Your Own Way
​While you might feel uninspired in your current role, or feel embarrassed when talking about your job with others, you might also be afraid of change.
Rather than holding yourself back, take the time to learn more about different professions and industries and pledge to yourself that you will secure a career that will make you feel happier and more fulfilled throughout the years.
While the outside world might seem like a big obstacle, the biggest hurdle you might need to overcome is your own confidence and motivation.

#Step Two: Assess Your Skills and Interests
It is likely you are unfulfilled in your current role because it doesn't ignite a passion or effectively utilize your skills. That is why you owe it to yourself not to settle in a job and to find a career that complements your knowledge, experience and interests.
For example, if you are a people person but you are stuck behind an office desk five day per week, you might enjoy moving into a customer-facing field, such as nursing, recruitment, sales, or hospitality.

#Step Three: Consider a New Career in the Same Industry
Rather than allowing your extensive knowledge and experience in a field to go to waste, consider embarking on a new career in the same industry. After all, it might be a role that bothers you and not the field itself.
For example, if you are currently employed as a police officer, you could gain a leadership career in law enforcement by embarking on an online course. Find out more about how to gain a degree in policing.

#Step Four: Review Your Income Requirements
It is, however, crucial to ask yourself whether you are prepared to drop your income level to secure a new profession. If your answer is no, you will need to secure a role that offers the same salary or higher as your existing job role.
If, however, you are prepared to take a pay cut, it might be worthwhile reducing your outgoings to ensure you don't feel affected by the decrease in salary. Remember, you cannot put a price on happiness.

#Step Five: Tweak Your LinkedIn Profile
If you want recruiters and business owners to start contacting you left, right and center, you will need to maximize your presence on LinkedIn. Sadly, many talented professionals make the mistake of selecting the wrong industry sector when creating their profile, which could make them difficult to find on the social media platform.
Always make sure you select the field most relevant to your sector and not your profession, which could boost your appearance in LinkedIn when recruiters are looking for a candidate in a specific industry.

#Step Six: Take Advantage of Opportunities
Developing a brand-new skill could potentially pave the way for a more rewarding, exciting career. For example, if your current company provides employees with different forms of in-house training, sign-up to as many opportunities as possible.
By doing so, you could develop the knowledge and expertise a prospective employer is looking for in a candidate, and it could help you to identify a passion or interest in a particular field.

#Step Seven: Volunteer to Gain Experience
Many employers require candidates to have gained some form of experience in a field before offering them a role. If you want to secure an interview and improve your chances of acquiring a new profession, consider volunteering in your desired industry.
For example, if you dream of entering digital marketing, but have next to no knowledge of the industry, consider volunteering at an agency near you. They will happily accept an extra pair of helping hands and an opportunity to develop new ideas, and it could help you to gain some first-hand experience in content marketing, SEO, social media and/or account management.
Plus, you will be able to make an informed choice regarding whether a marketing career is right for you, which could prevent you from making a big mistake by embarking on a course or applying for various vacancies near you.

#Step Eight: Tailor Your Resume to a Company
While you might be filled with passion and enthusiasm for a new career, it is important not to over-zealously apply for various jobs with a template resume.
Instead, take the time to write a great resume and cover letter, which should be tailored towards a company's job description. It will prove to a prospective employer you have thoroughly read the job description and that you have the expertise they are looking for.

#Step Nine: Don't Give Up
Securing your dream job can take time. Unfortunately, you could face rejection when applying for different vacancies, which can be disheartening. However, rather than allowing the rejection to dent your confidence, you must maintain an optimistic outlook during the search. It is unrealistic to expect to walk into a job after immediately gaining a qualification or experience.
Instead, accept it will take time to land your sought-after position and keep working hard to improve your knowledge and experience in the meantime. It will be worth all the blood, sweat and tears once you arrive at your new workplace.
Never settle in a job you dislike. If you want to reach your potential, boost your salary and increase your career satisfaction, you owe it to yourself to secure a brand-new profession in the same or a different field. To do so, you might need to gain experience, secure a qualification, boost your knowledge and develop greater confidence in your ability.