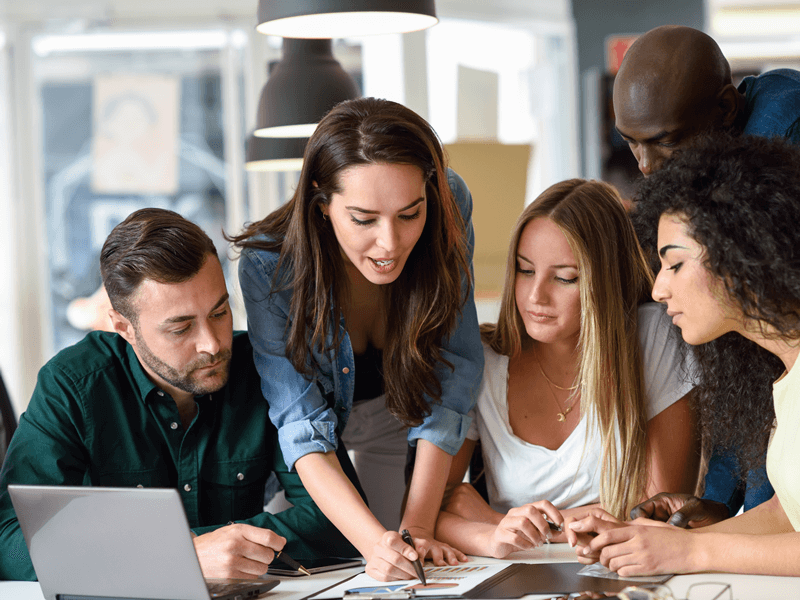 Life is far from a static entity. Everything changes, in big ways, small ways, personal ways and publicly. You cannot ignore this change, and in fact, to succeed in life you must embrace all the changes as they come. Only when you embrace change can you gain back control in this otherwise chaotic world. And only when you anticipate trends and how new tech will impact your industry and business can you make the necessary changes not only to survive, but thrive. The best companies and most successful individuals in the world saw the future, and they worked to build said future, but none of this can be done without a firm grasp on the basic principles.

Every time a successful guess is made on the future, it is done through extrapolation. You, therefore, need to have a firm grasp of what is going on today, so you can understand what tomorrow will look like. The only way to achieve this grasp is to adopt a lifetime of learning. Sometimes this means being more dedicated to reading, in others, it will mean going back to higher education to get a degree. Either way, if you want to succeed in the future you will need to have the education and knowledge to prop you up.
To successfully adopt this way of life, and to even thrive in a school setting once again, you will want to consider the following tips:

Benefits of Going Back to Higher Education

One thing you need to remember when it comes to higher education is that it is not infallible, and in fact can become outdated over time. That is why it is important that you are strict with your after-learning regimen. You can only become an expert, and stay an expert, if you remain up to date with all the data and information.
If you haven't kept up to date with the cutting edge information in your field, or haven't gone back to school beyond your BA back when you first moved out of your home, then you should consider going back. Going back to complete an MA today means gaining the knowledge, skills, and toolset you need to further your career or business.
Nodaways you don't even need to take time off from work or settle on the local institutions that offer night school. Today you can instead learn from the best universities in the world, on your own time, and right from home, so long as you enroll in their online learning degree.

Benefits of Adopting a Lifetime of Learning ​

Going back to university can give you the boost and qualifications you need to thrive in your career, but it is up to you to keep that momentum going. Learn, read, attend workshops, talks, and generally try to be active in your industry. This is how you will stay up to date with all the trends, make yourself invaluable to your employer, and of course network with the people who matter most.

How to Successfully Go Back to School

​
If you need to quickly learn or need a formal qualification to further your career, there is no better place to turn to than school. Going back to school, however, can be difficult for adults who have spent decades in the working environment.
Thankfully with online learning, you can accomplish anything while still pursuing your career. Want to be head of human resources at an international company? Then study online for a Master of HR degree today and get the know-how on how to manage international, diverse workers throughout the supply chain.
From business to marketing, to HR, to beyond, there are courses out there for you to gain your MA right from home, but to really succeed in both the course and your job, you will want to take the following steps:

Steps to Take In Advance

Be Certain It's the Right Move for Your Career or Business
Obtaining an MA takes years, and it can also cost a lot of money. It is for these reasons that you need to be absolutely certain that going back to university or college is the best for your career. If you are already considered an expert, then chances are you won't gain much from going back, but, if you want to learn new skills, it can be the perfect place to go.
Know Your Options
As stated before, you can now achieve a full degree online right from home. What this means is you can gain your qualifications in institutions around the world, without even needing a visa to do it. Other options, of course, include local classes in your city, night school, or part-time university classes.
Choose the Right Course
There are a wide variety of courses out there that can help you further your career, but it can be tricky to determine which is the right one for you. Generally speaking, choosing the course that offers both a foundation in theory and in practical application is best. Before you settle into any one course, ask for advice from the university and your peers. Your degree needs to offer a lot of relevant, pertinent information that will further your career, not just reaffirm what you already know.
Talk to Your Employer About Sponsorship
Further education can be expensive when you want to gain a formal certification, which is why you should always approach your employer about sponsoring you. Even if they only put up half the tuition cost, this can still take a lot of financial pressure off of you. You will need to convince them that you going back to university is for the best for the whole company, as you will gain new information and skills on an ongoing basis that will help better the company as a whole.
As most online degrees are done on a course-by-course basis, you can easily convince your employer to sponsor you on a trial basis. See what you can gain from the first course, and if that improves your company, ask them to sign on to sponsor you for more of your degree.

Tips to Help You Succeed in Learning

When you finally enroll in your degree of choice, you will immediately have a lot on your plate. Even if you only need to commit 15 hours per week to your degree, this can be very difficult to manage when you also have a full-time job to contend with. That is why you will want to follow these tips so you can succeed both in learning and in your career:
Create a Routine for Yourself
The first step to any success is to create a routine. For example, try to go to a café or a social working environment after your job to sit down and work on your degree. Two hours after work every day will cover most of your learning requirement, meaning you only need to get through an extra five hours of work on the weekend. If you want to break this up further, you can work one hour on your degree in the morning, another after work, and then finish those last five hours on the weekend.
Whatever schedule you choose for yourself, you need to stay consistent. Only when you create a routine out of your education can you allocate more natural energy to the task, and thus make it easier to get through the extra workload without the added stress or fatigue.
Go to a Productive Working Environment
Your work environment should be bright, engaging, and comfortable. This could be a café if you don't mind the din of other patrons, or it could be a library or even a rented desk at an office. What you don't want to do is work on your university degree at home or during work hours. Home needs to be where you can relax, so don't bring work home there.
Stay Healthy and Unstressed
It is stressful to handle both your career and manage to find time to work on your degree. Both have high expectations of you and take a lot of time and effort to commit to. If your health or wellbeing slip in any way, you will find it incredibly difficult to succeed at either one of your pursuits, so really emphasize healthy living during this time.
Start first by clearing out your home of unhealthy temptations. You may also want to spend time over the weekend creating healthy meals for yourself when you are out of the house on the weekdays. Having a healthy meal for lunch and while you work on your degree can give your mind the energy it needs to thrive and focus.
Take this time to also invest in reusable water bottles and coffee mugs. You need to stay hydrated throughout the day, and if your chosen after-work location is a café you will enjoy a healthy discount from providing the baristas with a reusable coffee cup.
Create Detailed Notes for Later
It is fine if you create scribbled notes while you watch digitized lectures, but do take the time to create better, more understandable notes afterward. This way you can easily return to your notes and refresh your memory on key concepts without being frustrated by your shorthand.
Read All Recommended Material
There is only so much university can do. You need to take the initiative and read through all of the recommended texts and make notes. This could mean reading at home, but with the right atmosphere, you can easily turn this task into a lifelong habit that will help you become an industry leader in the future.

How to Adopt a Lifetime of Learning

Getting your degree will be a huge accomplishment. You will have industry-leading skills, tools, and knowledge that can help you propel your career further. Never, however, rest on these accomplishments. There are always new discoveries, new trends, and new reports that come out, which is why you need to adopt a lifetime of learning, to develop your knowledge, character, and expertise.
Always Have a Book on the Go
Reading helps the mind grow and stay healthy. It doesn't even matter if you skip the nonfiction and dedicate your personal time to reading fantastical stories. Reading helps the mind focus, relax, and above all else, it improves your grammar and vocabulary. This, in turn, can help you convey your ideas effectively, while also improving how you manage stress and work.
Tip: Always read top specialists in your field first. Not only is this a great way to gain updated insider's knowledge, but it can also be incredibly useful for networking opportunities.
Stay Up to Date with News in Your Industry
Subscribe, if necessary, to news agencies that specialize in your industry, and set up Google alerts so that you are the first to know of any big changes. This will help you stay up to date with all key news, and make you the person to go to for all the latest trends and updates in your company.
Go to Academic Talks and Lectures
If you live in a city or town that has a university or college, try to keep up to date with any public events. Talks, lectures, and even conferences are held all the time, and by knowing what is available, you can expand your knowledge and engage your critical thinking skills, all for free.
Diversify Your Skillset
When it comes to learning, not everything you do needs to benefit your career directly. You need to care for your wellbeing as well, so take classes and learn new skills in activities you are passionate about. Learning to sculpt might not help your career advance, but it can help you feel fulfilled and relax.
Learning is something we should never give up on. It is how we develop our skills, our personalities, and our critical thinking skills. It can help us further our careers and our personal lives, and the only thing holding you back from adopting this lifelong learning approach is you, so get started today.