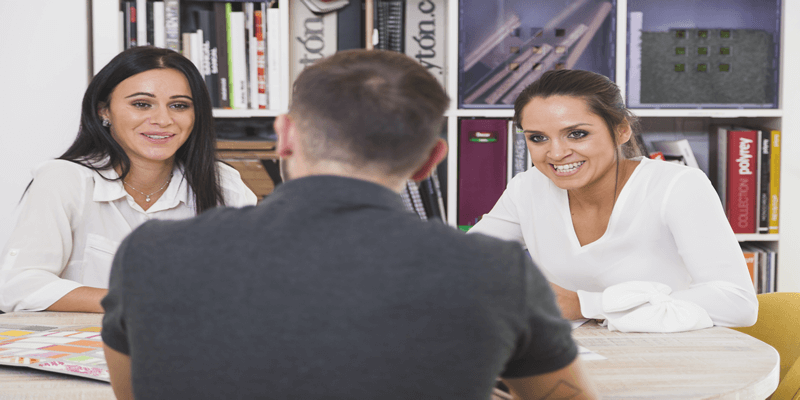 Attending a job interview is one life event that few of us anticipate eagerly — no matter how much we want the position on offer.
The latest Office of National Statistics state that there are 32.24 million people in work in the UK — and at some point, most of them had to seek advice about marketing themselves and remaining calm during the fateful few minutes of an interview.
So if you're nervous about an imminent interview, you're in good company — but here are three terrific tips on preparing perfectly.
#1.Research interview panel
You performance at your interview will influence the panels final decision, so its very important that you think carefully about what you want to say and how your want to come across in advance. No matter how busy you are, give yourself as much time as your can to prepare.
Doing a little background research on each member of the interview panel can pay dividends.
Some valuable prior knowledge on their education and extracurricular interests might provide clues about the types of questions they might ask.
So if you support the same sports team as one of the interviewers, it merits a brief mention, and if you know they advocate a particular workplace culture, your answers can reflect this too.
This preparation alone won't win you the job, but it might help you make a positive emotional connection and provide precise answers.
However, don't overdo it — if you appear to know too many obscure biographical facts, they might mistake you for a stalker.
Things to consider:
1. Who are your interviewers?
2. Know the institution

3. What job are you being interviewed for?

4. How to get to the interview

5. Preparing for a presentation

6. Know your CV

7. Your research/teaching profiles

8. Relate your skills to their needs

9. Network, network, network!

10. Get a good night's sleep

Job candidates in large corporations or public sector bodies will usually have to provide evidence that they meet or exceed the core competencies for each role — factors like communication, decision-making and problem-solving.
And this is often assessed at interview by asking you several situational questions based on real-life examples from your previous jobs.
Whether you've pre-prepared examples or are selecting them on the spot, the STAR technique helps you structure any answer efficiently.
Describe the situation you found yourself in and its associated challenge, the task you had to complete, the activity you performed to problem-solve, then the result that proved how effective you were.
Whether you're describing the day you had to rapidly find reliable outsourced payroll solutions or the time you stood in for a keynote speaker at your staff conference, this story structure relays anecdotal evidence perfectly.
Which questions need a STAR response

This is about setting the scene, giving a context and background to the situation. So if you're asked a question about time management, your reply would need to include the details of the project you were working on, who you were working with, when it happened and where you were.
This is more specific to your exact role in the situation. You need to make sure that the interviewer knows what you were tasked with, rather than the rest of the team.
This is the most important part of the STAR technique, because it allows you to highlight what your response was. Remember, you need to talk about what you specifically did, so using 'I' rather than team actions – otherwise you won't be showing off the necessary skills the employer is looking for.
Be sure to share a lot of detail, the interviewer will not be familiar with your history, although remember to avoid any acronyms and institutional language.
What you're trying to get across here is how you assessed and decided what was the appropriate response to the situation, and how you got the other team members involved – which in turn is a great way to demonstrate your communication skills.
For example if you are asked about dealing with a difficult personality on your team you would talk about how you decided to take a certain course of action to avoid making the situation worse or upsetting the individual.
The result should be a positive one, and ideally one that can be quantified. Examples include repeat business, an increase in sales by 15% or saving the team 5 hours a week. The interviewer will also want to know what you learnt from that situation, and if there was anything you'd do differently the next time you were faced with that situation.
The STAR technique enables you to showcase your relevant experience with the interviewer in a methodical manner. We recommend doing some in-depth preparation before the interview so that you can have some great examples to quote.
Interviewers will make subconscious judgements about you as soon as you enter their presence — so make sure that you create a great first impression.
Dress code is important, but you can't presume that formal attire is always appropriate.
If a company's website confirms their employees dress casually, follow suit — doing otherwise might indicate poor preparation.
Before you enter the room, take a deep breath, then walk in at a medium pace, make eye contact with the panel and remember to smile.
And take the requisite time to shake hands with each panel member before sitting down — you'll simultaneously radiate respect and remind yourself of each person's name.
Follow these three terrific job interview tips to increase your chances of bagging your dream job in no time at all.
Things to consider
Dress in a manner that is professionally appropriate to the position for which you are applying. In almost all cases, this means wearing a suit. It is rarely appropriate to "dress down" for an interview, regardless of company dress code policy. When in doubt, go conservative.
You should wear a suit to interviews. "Suit" means the works: a matching jacket and pants, dress shirt, tie, coordinating socks and dress shoes. A dark-colored suit with light colored shirt is your best option.
Your suit should be comfortable and fit you well so that you look and act your best. There is a difference between not yet feeling at ease in a suit and trying to fit into the same suit you wore to your sister's wedding when you were 15. (In the latter case, it's time to invest in a new suit!)
Avoid loud colors and flashy ties.
Clothing should be neat, clean, and pressed. If you don't have an iron, either buy one or be prepared to visit the dry-cleaner's often. Shower or bathe the morning of the interview. Wear deodorant. Don't wear cologne or aftershave. You don't want to smell overpowering or worse, cause an allergic reaction.
Make sure you have fresh breath. Brush your teeth before you leave for the interview, and don't eat before the interview. Don't smoke right before an interview.
Your hair should be neat, clean, and conservative.
What are your favourite interview tips? Share your advice in the comments section.