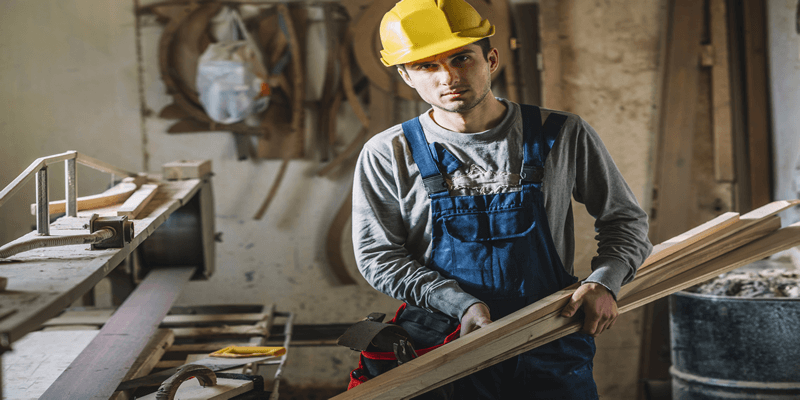 This is a fair topic to consider because no one wants to enter a career where they cannot make a reasonable amount of money to enjoy during their lives.
There are some jobs which cannot be replaced even if the education level increase a lot and everyone becomes highly qualified. While professional education has its own merits, skill based knowledge and education has its own and it cannot be negated anyway. There are several people who have acquired higher education from good institutions but cannot do the necessary daily life tasks, if required, like plumbing or electric fitting. Not only have these jobs required education but also a certain skill and expertise as well. Without these required skills, it is barely possible to complete the related tasks successfully.

One of these jobs that requires refined skills is of a carpenter. Carpenters make and maintain wood fixtures in buildings. Carpentering might not be a profession which is very famous among the people with highly qualified education, however, everyone needs to get the services of a carpenter every now and then. There are a large number of constructions being carried out everywhere and each of them require a carpenter to do the required tasks. Everyone is not supposed to turn into a professional with a degree but some are here to perform the tasks which not everyone is able to do. If you have the required skill set and experience to work as a carpenter and build amazing items you should give The Job Explorer a look and find the ideal workplace for yourself.

Carpentry can be learned as a trade and may not necessarily require a college education.​ Traditionally, to become a carpenter you would have to become an apprentice for up to 3 years slowly learning the skills to carry out jobs independently. Now it is possible to learn the necessary skills required in a much shorter time frame. Our courses combine practical and classroom teaching to give you the experience you need to be able to carry our various carpentry jobs.

Whether you want to become a professional carpenter or just learn enough skills to carry out your own DIY, Access Training can help.
For qualified carpenters you could consider a short course to add to your existing skillset.

#1.First of all let's discuss the earning, what is the typical starting salary for a carpenter who is qualified?

he average salary of all carpenters as of May 2018 was
$44,520
a year, or
$21.41 hourly
, according to the U.S. Bureau of Labor Statistics. At the high end, the top 10 percent of carpenters earned $34.90 per hour or more. The lowest 10 percent of income earners made $11.96 or less per hour. the median wage was
$19.20 an hour.
The Bureau of Labor Statistics.
​
also noted that apprenticeship pay is often 30 percent to 50 percent less than full professional carpenter pay.
​

These figures are a guide.

#2.However we research this on salary.com and the amount was different slightly.


#3.The type of tools required

A carpenter creates wooden products that are often used to create structures, such as furniture, artwork, foundations, doors, and window framing. Much of the work is done independently, so it is important to be able to adhere to deadlines. Attention to detail is essential, as the end product needs to be safe and aesthetically please.
To carry out the duties in this job, the ability to use hand and power tools, as well as good manual dexterity, is important. It is also essential to be able to read blueprints. Basic, proficient mathematical skills are needed to carry out measurements. The job may be carried out in a shop environment, which may be noisy, hot, and uncomfortable, so it is important to be tolerant of these kinds of conditions. Physical strength is needed to be able to walk and stand for long periods of time, to bend and stoop, and to carry heavy items. A person who wish to work as a carpenter needs to have complete knowledge about tools, equipment and other materials which are commonly used in the carpentering business.
Once you came to know about the tools, you will be required to practice them to develop a proper sense of using them as well. Later on, the other most important skill you need to learn is building the basic structure of a cabinet.

1. Power jointer and thickness planer. I have developed various means of straightening the edges of my stock with hand-held tools, but I don't see a way to efficiently flatten the faces of rough or reclaimed lumber without a power jointer. It's part of the first few steps for any furniture project, and I want to be able to move through this step quickly and into the more interesting work. The thickness planer is also a huge time-saver, compared to hand-held tools.
2. Circular saw, for rough dimensioning (especially long rip cuts). If you have a good table saw, that's even better, because you can of course use a table saw for all sorts of joinery work – not just dimensioning.
3. Hand saws, a router and two router bits. These are the tools I use for cross-cutting, straightening edges and cutting boards down to final width. The two router bits are a straight cut bit and a flush trimming bit.
4. Jigsaw, for cutting curves. A coping saw is also nice to have for detailed work.
5. Combination square and tape measure, along with crayons, pencils, a knife and an awl for marking.
6. A power drill or two, and bits as needed.
7. Rasps, files, a random-orbit sander, a smoothing plane and a block plane. These are the minimum for smoothing all surfaces of the final work, and doing it efficiently. Don't forget that you'll need sharpening supplies for the plane blades.
8. Joinery gadgets? I'm not yet sold on buying a biscuit joiner or a pocket-hole set. Again, if you already have them I think they are great. But I'm looking for projects I can complete with a combination of hand-cut joints, router joints and straight-in screwing. We'll see how it goes.
9. Chisels and a wooden mallet.
10. A hammer and some screwdrivers.
11. A Workmate, a puttering bench and clamps. Until I can invest in a large furniture-making workbench, I think I will be able to make do with the Workmate and a small bench. Again, we'll see how it goes. A good-sized supply of clamps, of course, is always necessary.

#4. The skills and type of work
A person who considers oneself an efficient carpenter should also know how to calculate the time it will need to complete an assigned project. Moreover, they should also know the details of all those materials which are being used to build the project. To land a well-paying job you will be required to complete the four year technical training program on carpentry which is federally approved. You can also get a nice job if you have worked at least four years in the field and have built enough skill and experience to complete your projects efficiently. There are also good chances for you if you have a combination of education and experience in the relevant field which will enable you to work efficiently in the field.

You'll work as an employee or a self-employed contractor for large and small construction companies. You may work on a construction site, a client's premises, or in your own workshop.
You'll need:

to be able to follow technical drawings and plans
maths skills to calculate quantities and angles
the ability to pay close attention to detail and make accurate measurements

#5.Some other things to consider, like physically fitness

This is a job that requires heavy lifting. You can expect to be on your feet most of the day doing active physical labor. You need a good sense of balance.
Being detail-oriented. One of the most important parts of carpentry is being able to measure and cut pieces of wood to exact measurements: an entire building could be affected by an ill-measured stairway. Carpenters also need the ability to look at a wooden structure and assess any problems with it.
Having problem-solving skills: Carpenters will face many problems while on the job. A board may break, or a tool may stall, and a carpenter will need to be able to recognize the problem and come up with a quick, effective solution.
Carpentry can be learned as a trade and may not necessarily require a college education.​

#6.Depending on where you work, your day-to-day tasks may include
discussing plans and following instructions
cutting and shaping timber for floorboards, doors, skirting boards and window frames
making and fitting wooden structures like staircases, door frames, roof timbers and partition walls
making and assembling fitted and free-standing furniture
installing kitchens, cupboards and shelving
building temporary wooden supports to hold setting concrete in place (shuttering)
making and fitting interiors in shops, bars, restaurants, offices and public buildings
constructing stage sets for theatre, film and TV productions

Do you work as a Carpenter, do you have some tips you can share? Leave a comment below.