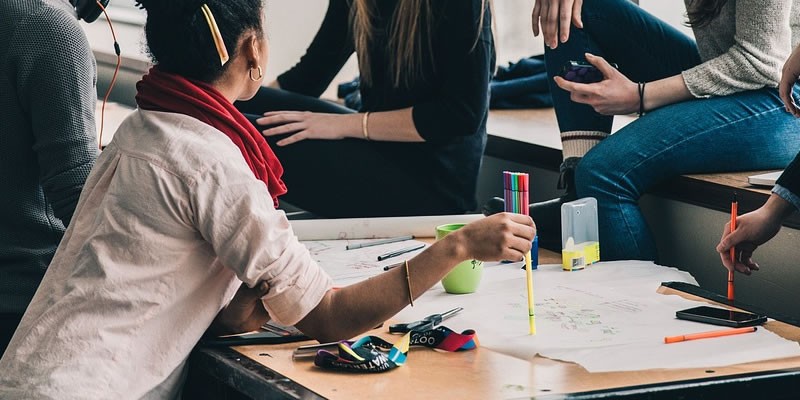 Starting a new job can be a little daunting. You might trust in your knowledge and skillset, but you might be a little overwhelmed about how you'll fit into the company. If you want to make a smooth transition into a business, read the following tips on how to quickly make friends in a new job. Whether you find yourself in a close-knit office where everyone seems like they've been friends forever, or you're just a little shy, follow these easy steps to break the ice with your new team workers.
First impressions count when you enter a new company. If you appear unfriendly or bored, your colleagues will be less likely to start a conversation with you and may be stand-off-ish. Therefore, to counter such attitudes, you must try to be both warm and friendly, which will make a person want to speak to you. For example, you should smile when introduced to colleagues, say hello, and try to be genuinely interested in who they are and what they do. Also, carefully consider your body language; for example, if your arms are crossed and your head is down, people will think you do not want to talk to them. Rather than do this, have clear eye contact and smile often.
Aim to Find Some Common Ground
Your colleagues could share the same interests with you, which could help you to make new friends in the workplace quickly. You simply need to find some common ground, so start by asking questions. You could ask what they like to do in their spare time or learn about their favorite movies, music, or sports. It might even be helpful to take an interest in their interests, too. So, if a colleague is a soccer fan and is excited for the upcoming 2018 World Cup, you could visit Unibet to learn more about the sporting event.
While you should never compromise on your own tasks to help others, you should always try to help your colleagues when possible. If you try to help colleagues in need, you will immediately earn their respect, and they will be more likely to strike up a conversation. In addition to helping you advance socially in work, it can also help you to advance in your career – as people are often willing to help those who help them.
Your positive, helpful attitude could also capture the attention of a manager or employer so that you can develop a great reputation across the company. Therefore, it doesn't matter if you don't immediately feel as if you click with your colleagues, as they will soon respond to your friendly, positive, and helpful approach to work.
Attend Company Events and Build Rapport
It is easy to feel as if you don't belong when you join a new company, but you must push yourself out of your comfort zone to develop positive working relationships. Rather than skipping the company's social events, you should go along to start connecting with your colleagues. So, say yes to after work drinks on a Friday and don't skip the annual Christmas party, or you could risk ostracizing yourself from your team, which can make your working life much harder. If you are willing to make an effort, you can guarantee your colleagues will return the favor.