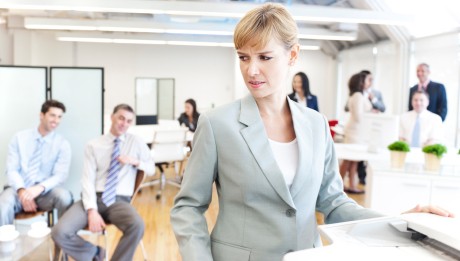 Well, we hate to say it, but if you want to pursue a career in your field, you MUST get the experience. Even if that means turning down a non-relevant paying job for a relevant, unpaid internship.
We know it's a difficult thing to accept, but it's just how it is today.
Back when college was less common, it was easy to land a job right out of school, without the real-world experience. These days, however, employers only see a degree as a piece of paper that gets you to the starting line. Without the practical experience to go along with it, you're chances at landing a job in your field are slim.
Whether it's an internship or a part-time job, you really need to find a way to get experience in your field.
"You've GOT to do some work in your field or else you're really going to be behind the eight-ball when you graduate,".
You don't necessarily want to take a job that pays the bills because, when you graduate, that's all the experience you're going have, and since that experience isn't relevant to your field, it's not going to be worth as much to employers.
(Don't kill the messenger!)
"Do whatever you can to work in your field right now, even if it's super entry-level," she urges. "You're going to need it."
Don't let all of those months of handwork go to waste. Do whatever you can to get an internship or a relevant part-time job.
Finally, it's worth remembering that one of the most significant contributors towards happiness at work is not related to how interesting your job is or how much it pays. "Relationships at work are so important," says Prof Cooper, "especially your relationship with your line manager." In fact, if you hate your boss, you'll probably still be miserable, even if your job is both fascinating and well-paid.
What do you think is more important, experience or qualifications? Join the debate and let us know your thoughts in the comments box below!
You want to go into a new career field, but you know nothing about it. Rather than let that be a barrier to entry, having no experience can be your in. Really. No experience in a new field is intimidating, and you may feel like you're not worthy of the opportunity to work in the field that you want to. Don't look at that as an excuse. If you want to go into this new career, pursue it. Make your lack of experience an asset by focusing on the value of the perspective you can bring the company – the fact that you aren't conditioned by years of exposure to the field – and your drive to learn and grow along with the industry. The "sure thing" sometimes isn't always the best thing for you or the people hiring you; the person with no experience but with passion and drive can be just as valuable. It may be scary to jump ship from what is expected of you to what you want to do with no experience and in a world where "things have always been done this way," you come in with a fresh perspective and look at the industry from a different angle. 3 Reasons No Experience Will Land You That Dream Job Here are the three reasons why inexperience is an asset: 1. You See Things Differently From The Bottom We all have to start from the bottom, at some point or another in time. When you take that step and recognize what you're currently doing isn't how you want to spend the rest of your life, you're starting from a blank slate again, and when it's a step you want to take you look at "the bottom" a bit differently and approach it differently. It is another – and just as valuable – perspective. Nothing more, nothing less. Starting from scratch in the field you want to pursue may be exactly what you need. We all have fears of failing at our passions if it's too drastic of a change. But sometimes it's that drastic change that we need and the new perspective that the industry (or your employer) wants. Don't limit yourself and your opportunities before you've even seen the landscape. Don't doubt your opportunities before you've even pursued them. 2. Innovative Thinking Is More Important Than Ever It is that ability to innovate that is going to be incredibly important to your career moving forward, regardless of whether or not you change fields. We're moving to a creative age, where those repetitive tasks and tactics will be outsourced or computerized. The way you think can't be replicated. The jumps that you take based on experience and education are what sets you apart. You're already behind and set to lose your job if you're content doing what's been done before, if you don't challenge beliefs and push to move forward. As a newcomer into an industry you are in the best position to capitalize upon that creative skill set and set yourself apart for the rest of your career in that industry because you dared to go against the norm. For a great example of how creative thinking made me $12,000/month working only 4-hours on Friday nights, watch this video. 3. Because Others Have Done It – And It Worked! In a former life I was a boxing promoter and publicist, so I knew how to make an athlete stand out. But I wanted to get into the racing world and had no direct experience there. My first client hired me because he knew I'd bring new angles to his promotion. I pitched a driver's column to ESPN that had nothing to do with the actual race and everything to do with what racers did in their lives outside of the race. ESPN loved the idea and I was soon writing columns for their website talking about my client's life off the track. If I had been entrenched in the racing world well before working with this client, I probably wouldn't have thought of that particular angle. I relied on my experience and knowledge of a parallel field to inform my choices. If you don't know what's impossible or even implausible, it's easier to do; you don't have that conditioned fear of difference that some cultivate after years in a particular industry. It's that drawing on different experiences that makes coming into a completely new field so valuable. You're not inexperienced and uniformed, but bring a different perspective in the way you think. As a new set of eyes, your assets are your soft skills – your critical thinking, understanding of strategy and people, and your creativity. Use them and make them work for you in ways that the industry probably hasn't seen before. Constantly be open to innovation and new views and you will always find a way to succeed. To learn more about different ways in which having no experience is actually an asset, click here. About the author Alex Simon is a career reinvention coach and speaker. Often referred to as "a master at breaking into sexy and exciting careers", he has promoted world title fights, managed Indy 500 race car drivers, worked for a Wall Street giant, and is the subject of Starsuckers, an award-winning documentary on the pursuit of fame. Check out his website, follow him on Twitter, or add him on LinkedIn! Photo Credit: Shutterstock
https://www.pure-jobs.com/blog/1206-3-reasons-no-experience-will-land-you-that-dream-job
If you've ever looked through job listings, you've probably seen open positions you thought would be a perfect fit for your talents. However, when you've looked at the application requirements, you've noticed employers preferred someone with many years of experience. Obviously, managers look for experienced candidates because they think experience equals both strong performance and loyalty. However, when managers focus just on experience, they often miss out on really talented candidates—like you—who might have done a better job. If you're someone who wants to start a business degree program to earn a bachelor's degree in organizational management (BSOL), then you'll be qualified for management jobs after you graduate. Even with your degree, when you start the job search, you may not have a lot of management experience. Therefore, you'll need concrete arguments explaining why you're a better, more talented choice than a more experienced candidate. Fortunately, research indicates experience isn't always the best predictor of success. Why Are Managers Afraid to Choose Talent Over Experience? Today's business world is driven by data and analytics, and managers take comfort in using numbers to justify a hiring decision. It's less risky to forward a resume showing years of experience than to take a chance on a talented but less experienced candidate. Talented candidates may fall through the cracks due to: · Resume volume. Online job portals and career services inundate advertised positions with high volumes of resumes. As a screening tool, many HR departments allow computers to perform initial scans of resumes. Resumes with certain keywords or numbers related to experience go to the next level while those lacking keywords are dismissed or deleted. · Degree type. Some managers are biased toward choosing a person with a specialist degree over a person with a more general degree. However, if they fail to look at the quality of the college and the performance of its graduates, they're not getting the candidate's entire story. · Fear. Hiring managers may be afraid to take a risk when they have the option to choose a safer candidate. If the risk doesn't pay off, then they'll have to accept part of the blame. How to Fearlessly Sell Yourself and Your Talent When you finish your degree and start looking for organizational leadership positions, don't hesitate to emphasize both your education and your talent. Showcase the following characteristics to your interviewer to make yourself competitive with more experienced candidates: · Respect for company culture. Sometimes, managers worry by bringing in a talented outsider, they're going to negatively affect other employees' morale. To offset this concern, tell the interviewer how you appreciate the company's values and culture. Also, discuss your strategies for handling workplace conversations, including how you would deal with conflict. · Leadership. According to Daniel Goleman, author of "Emotional Intelligence" and chairman of the Consortium for Research on Emotional Intelligence at Rutgers University, qualities like self-awareness, self-regulation, motivation, empathy and social skills are better predictors of success in management than experience levels. Give your interviewer this information, and back it up by demonstrating your emotional intelligence. · Drive. Talented people want to work to prove themselves. Explain how your desire to prove your worth may generate more effort and loyalty than a more seasoned, less-motivated candidate would have. · New outlook. An experienced candidate may have done things the same way for a long time. As a result, you may be more receptive to new trends and new ideas. Let the hiring manager know a candidate like you often brings a fresh perspective and a greater adaptability to change. Many of the same business leaders who complain about an underqualified talent pool are the same leaders who fail to take any hiring risks. In many cases, they'd rather choose safer, more experienced hires than take a chance on a talented but less experienced candidate. As a job candidate, emphasize how you've achieved positive results. Don't be afraid to say results are more important than a safe, predictable and linear career path. When you demonstrate strong achievement, good interpersonal skills and significant emotional intelligence, your interviewer should feel more confident about taking a chance on your talent. Related articles What Information Security Firms Look for When Recruiting Top Talent (securestate.com) How To Recruit An SEO - The SEO Industry Leaders Reveal Their Secrets (moz.com) Fall into Talent: Resource Planning for Your Business (staples.com) Recruiting? Make Your Candidates Look Good! (marianrich.wordpress.com) Employers Value Emotional Intelligence (minnesotaworks.wordpress.com) Six secrets you're giving away on your resumé (news.optuszoo.com.au)
https://www.pure-jobs.com/blog/1107-does-talent-matter-more-than-experience-when-applying-for-a-job