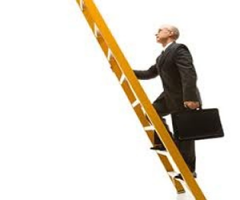 Get ahead in 2013: 5 steps for workplace success
Some people are natural-born networkers and move from one position to another with fluid grace. Others have to work a lot harder at getting promotions and landing new and better-paying jobs.

Moving up the ladder isn't always about being in the right place at the right time, nor is it about being lucky. Success in the workplace most often stems from careful planning and following a dedicated and deliberate career path to achieve your goals. Here are five tips you can follow to better position yourself for the opportunity of a salary boost, or promotion that might make your 2013 federal tax return outshine your 2012 earnings.
Five ways to get noticed at work in 2013



1. Plan for success. Getting noticed in the workplace isn't about schmoozing with your boss. Instead, let your workplace productivity and conduct do your talking. To get the best results, form a game plan for the year and stick to it religiously -- you may soon find yourself swimming in the pool of highly promotable candidates.

Just as sports teams strategize each week for pending opponents, you should make a set of modest weekly goals you can reach, and keep several larger accomplishments in sight for year-end. Keep your weekly game-plan goals small -- avoid social media sites at work, arrive five minutes early every day, take on one extra assignment or make a few more sales calls. Building positive momentum in the workplace is more about the series of small, conscious steps you make to improve your overall performance than large, sweeping changes. With proper planning and dedication, you have a much better shot at obtaining those larger goals of an increased salary or additional job responsibilities.

2. Stay relevant. No matter the industry in which you work, it pays to know pertinent information about where that industry is headed and new consumer or industry trends. Read trade magazines, pursue relevant online education or attend classes at a local school or university to boost your knowledge of your field. You can gain valuable insight while you grow your network of like-minded peers. Success in the workplace often involves fostering a tight-knit network of business professionals and building your reputation. You may find someone in your network recommending you for a promotion or new job if you make your interest in career advancement known to them.

3. Know your value to your company. Many companies cut salaries and delayed raises due to the recession. That doesn't mean you are not due additional compensation for a job well done over the past few years. While it's true that almost any employee is replaceable, most companies prefer to keep their most valuable and well-trained employees on payroll rather than lose them to a better-paying competitor. If you aren't willing to jump ship, document the many ways in which you impact your organization's bottom line, and focus on doing an even better job in those areas. Doing so highlights the valuable skills you bring to your position and can merit additional notice by higher-ups.


4. Participate. Being a good employee goes beyond doing a good job. Make sure your boss and management know how hard you are working by verbalizing ways you've been able to better perform your duties, and keep them abreast on the status of your projects. Think about the company as a whole, and try to formulate new ideas, strategies or sales tactics, and voice your thoughts during meetings. A word of caution, though: Keep in mind you walk a fine line between providing valuable insight and chatty conversation. Try not to take up too much time of someone's valuable time, especially during staff meetings.

5. Extend a helping hand. Don't hoard your knowledge. If there are ways you can help other co-workers excel without taking time away from your duties, generously share your hard-earned knowledge. Helping out with additional tasks, tackling new projects and taking extra responsibilities makes you a team player -- something almost every boss wants and needs. Working well with others is a key tenet of management. Make sure this is one tool in your toolbox that doesn't need sharpening.

Following these five simple steps can help change the way management views you as an employee. Be diligent in your efforts throughout the year, even if a boost in salary or a promotion isn't forthcoming. Over the long haul, your efforts and commitment to excellence are sure to pan out.

About the Author

Rob Sabo writes about education and business topics.

This post is originally from schools.com
Leave a comment below?
Did you find this interesting
Last modified on