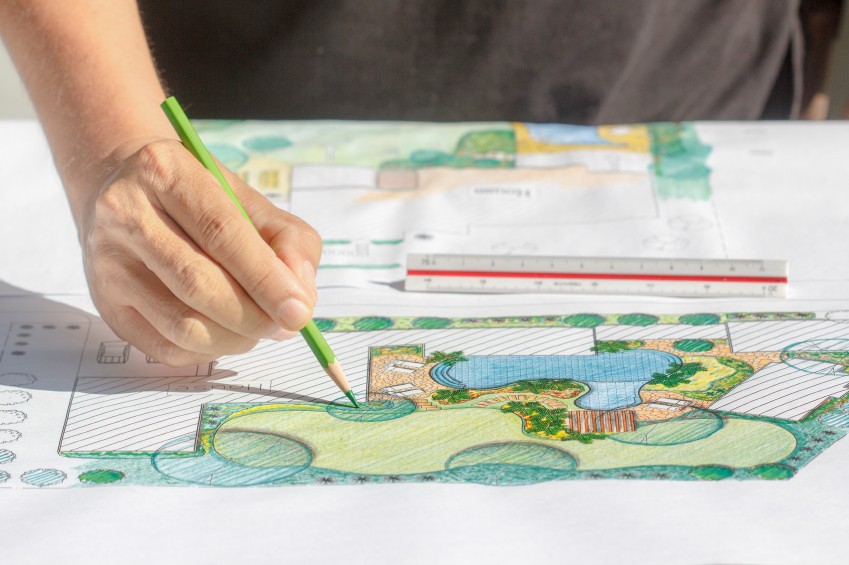 You don't need a fancy college degree to work in the exciting world of gardening and landscaping.
For instance, you can opt for a career as a groundsman and earn up to $30,000 a year with no previous qualifications.
However, if you've got your sights set on something more specific, or you're considering fields of study at the moment, read on.
How to Become a Landscape Designer
Landscape designers focus on designing and maintaining gardens.
If you're interested in this career field, you'll need a wide range of skills to succeed in this job. These include a scientific mindset, people skills, technological know-how, and creative flair.
That's because you'll need to use your knowledge of ecology to create beautiful botanical showcases.
You'll also use technology in your daily tasks. This includes computer-aided design and geographic information system technology.
Landscape designers work for private individuals, landscaping companies, school campuses, parks, and businesses. They aim to meet the client's vision without unduly harming the environment.
It's possible to work your way up into the position of landscape designer while employed in a landscaping company. Yet, you'll need to accumulate some formal training along the way.
If you want to skip this route, you can enroll for a four-year Bachelor's degree in landscape design at certain colleges instead. These courses usually include:
Plant biology and propagation
Turfgrass culture
Garden pest management
Landscape maintenance
Landscape contracting business aspects
You can also work as a landscape designer if you achieve a degree in horticulture or plant and soil science.
While studying, it's important to complete an internship in landscape design too. Not all colleges insist on you completing an internship before you graduate.
It's worth doing though since you'll learn a lot in the field and gather valuable experience in the process. Most employers give preference to applicants with three years' experience or more.
Once you've achieved your qualification, and earned at least four years of experience, you should register with the Association of Professional Landscape Designers and the Landscape Design Association.
How to Become a Landscape Architect
Landscape architects are one step up from landscape designers and perform many of the same functions. They also meet with clients and use CAD software for proposals as well as designing landscapes and hardscapes.
Landscape architects place more emphasis on hydrological issues like poor water quality and drainage than landscape designers do. They're usually called in when natural features of the land obstruct the intentions of the client in some way.
Most large-scale projects require the services of a landscape architect.
Landscape architects require a relevant bachelor's degree. They must also obtain a license after graduation and must meet ongoing education requirements. You can apply with the American Society of Landscape Architects.
A degree in horticulture can open many doors in plant-related fields including gardening. Some of these include:
Arborist
Floriculturist
Greenhouse grower
Horticulturist
Hydrologist
Interiorscape specialist
Irrigation specialist
Ornamental Horticulturist
Permaculture Designer
Plant propagator
Environmental engineer
Alternatively, if you wanted to work for yourself, you could open a garden center or nursery too. A degree in horticulture takes between two and four years to complete and includes in-depth studies about plant biology, botany, plant genetics, soil science, and pest management.
Getting Started in Gardening
If you can't afford college or it's just not your thing, you can still get a job in the gardening industry if you're willing to start at the bottom.
You could apply for a job at a nursery performing manual labor, work as a turf manager at a sports field, or as a salesperson at a garden center.
Although you don't need any formal qualifications for these jobs, employers give preference to applicants with formal qualifications, experience, or extensive knowledge of plants.
So, if you're interested in getting started in gardening, practice makes perfect.
You can take free online courses in gardening or volunteer at local community gardens. These aspects prove that you're interested in the field and willing to learn.
Other Jobs in Gardening and Landscaping
Every industry relies on administrative workers to keep records, see to the payroll, and deal with cash flow. Garden centers also require cashiers and cleaners to see to their daily operations.
Farming and forestry are other related industries where you can get started learning about the cycles of nature and caring for plants.
There are so many ways to get started in gardening and landscaping, so start searching for your ideal start in this career right away. Gardening and landscaping are hands-on careers, so every minute you spend working with plants or learning more about them counts for something.
In any career, effort and dedication are the best way to ensure success and opportunities for advancement, no matter where you start.
Where to Find Gardening and Landscaping Jobs
There are many ways to get your foot in the door in the gardening industry. Garden landscaping companies employ a wide range of professionals, from designers to account clerks.
You can look for suitable jobs that match your qualifications on job boards like Indeed or Pure Jobs. You can also search on specific company's employment pages like The Budd Group, Franz careers, or Excellence Services.
Make the Most of Your Career
No matter where your interests lie, it's important to follow your passion. When you're doing something you love, it's easy to excel and thrive in your position.
For more great ideas on how to achieve your career goals, keep browsing our blog, or use our easy search function to find your ideal job in the gardening and landscaping industry.