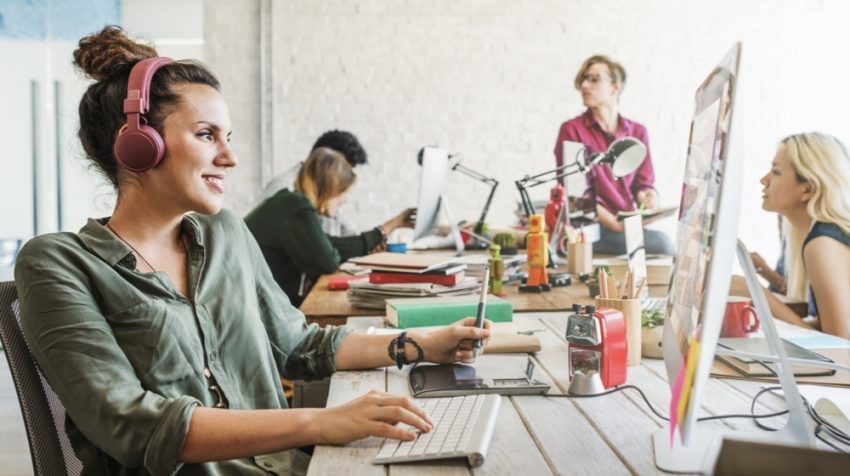 Now that 2020 is over, it is time to start looking forward to the next year and working on improving your business outlooks for 2021, which could mean hiring new people for your organization.
With all of the difficulties, businesses have faced in 2020, hiring new people now might seem a bit daunting, especially when budgets are tight. You want to make sure you're hiring the right people who will do a good job and who won't need much hand-holding.
When it comes to hiring creative professionals, this can be a very difficult balance to get right.
What Are 'Creative' Jobs?

Practically every business and every organization will need to hire creative professionals at some point, especially in the marketing team. Creatives come in all shapes and sizes, from graphic designers to videographers, strategists, and consultants.
There are creatives on every team, and every team relies on creativity to improve their workflow, but creative people can be notoriously difficult to work with if not managed correctly.
Why Creative People Are Hard To Hire

It's not so much that creative people are difficult to hire, it's that they're difficult to keep and difficult to please. Through no fault of their own, creative people will see the world differently to their more logical-minded coworkers, which can cause a bit of friction if it's not managed correctly from the start.
However, it's worth remembering that it's exactly that reason, seeing the world differently, that you want to hire creative people. You need people to expand your business and develop the new ideas, but that means working with these great minds, not against them.
Nowhere is this more true than during the hiring process.
Show Them That YOU Are Professional

It can sometimes feel that creative individuals aren't as 'professional' as other individuals. Your social media manager might prefer to come to work in jeans and a t-shirt, while your legal team is dressed in suits and ties, but does this matter to YOU?
When hiring creatives, it's important to show them that you are a professional company and that you'll support their development and their ideas, you'll help them to build creative workflows that work for them and for the work that they're doing, and that you'll work with them to get the best out of them.

Change Up Where You Advertise

If you find yourself with a glut of professional jobs that need creative minds, you need to consider where you are advertising.
Should you stick to job boards or recruitment agencies? Trawl through LinkedIn? While these could work, a much better strategy is to go where your creative individuals hang out and advertise to them. Find them on social media through adverts, post messages on Reddit and other online platforms, and be creative in how you do it, which leads us onto...
Be Creative In Your Own Advert

"My company is a forward-thinking business in need of someone who can work to their own initiative…" you've heard that line before, you've probably even used it in your job adverts, but is it true? Can a company that hasn't changed their working policy since the 1980s be considered "forward-thinking" or are you just using buzzwords in the hope of getting some traction?
Ditch the standard job spec and formal wording and go for something more creative. You're looking for a creative, so get creative with your ad. Use video and clever graphics to grab attention, and keep it there.
Don't Be A CV Critic

It's all too easy to dismiss a CV for not being "professional", and there are certainly times when that kind of critique is called for.
If you're looking for a copywriter and their CV is full of spelling errors and typos, it's unlikely that you'll think of hiring them, but if it's one typo should you give them a second thought? Probably, yes.
Some creative industries are incredibly competitive, such as a graphic design and visual content creation, and for that reason, the creative professionals behind the CV may decide to be a little more creative than you were expecting, such as experimenting with bold colors and interesting layouts.
This is not the time to think of what you would put on your CV, and it's a time to look at the creativity behind a CV and decide if this is something you're interested in hiring or not. After all, if you're looking for a creative person and their CV is rather plain and dull, they probably don't seem as creative at all, do they?
Be Considerate Of Different Learning Styles

Did you know that there is a huge correlation between creativity and what we usually call learning difficulties?
Difficulties such as Dyslexia, Dyspraxia, Autism, ADHD, and a whole host of other sensory processing disorders come with a massive side effect that can mean some people have an incredible talent for creativity. Still, your prejudices may write them off before you've given them a chance at interview, and so might your application process.
UK charity, Made By Dyslexia, aims to show the positive side of dyslexic thinking, and it's dyslexic founder, Sir Richard Branson, has certainly never let his dyslexia hold him back from being creative enough to achieve his goals.
The key to understanding how creativity can go hand in hand with learning 'differences' and how to be considerate of this in your recruitment process is understanding how these people think and how their application can be different.
Many adults who have learning differences, such as dyslexia, will be reluctant to put it down on an application form for fear of being rejected, but giving them different ways to apply (such as video applications, portfolios, Zoom chats, etc.) can open up a whole world of creative individuals to you that you may not have known existed.
Don't write off people who approach learning and communication differently; after all, some of the world's greatest minds had dyslexia or another form of learning difference.