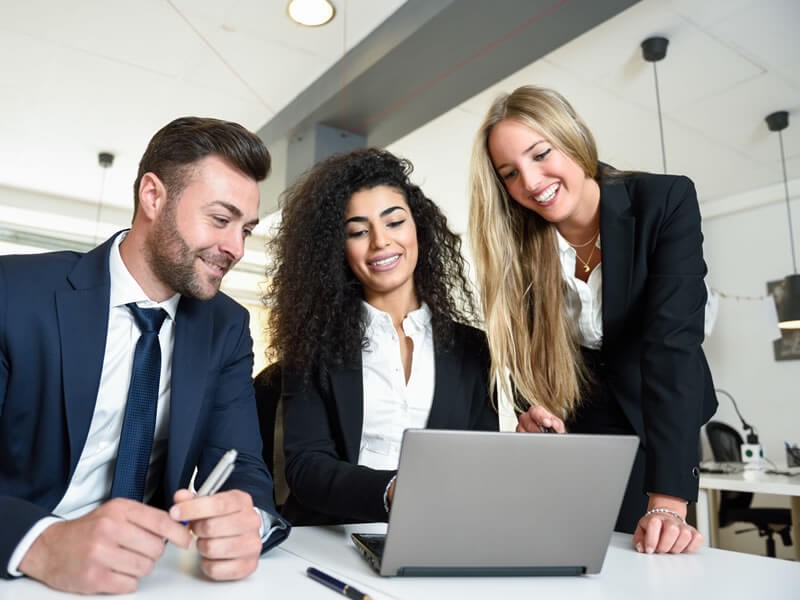 ​There's a quote that states, "when we rise, we must send the elevator back down." This thought-provoking statement encompasses the idea behind developing great leaders in the workplace.
While the quote acts as guidance, organizations require actionable tasks to be able to implement changes that will result in the development of great leaders. Here are some to consider.

Mentoring Opportunities

​Set up your entire organization for success by providing mentoring opportunities, with participants ultimately getting experience both as a mentor and being mentored by their peers. As someone progresses through the organization's hierarchy, ask them to guide those below them that have similar goals.
Mentoring opportunities in the workplace
are also a great way to incorporate diversity and inclusion movements into your organizational culture. Rather than pairing like with like, create matches between those with different genders or races. Not only will this lend a helping hand to those who may be subject to cultural bias, but it will also help open minds and expand your employees' knowledge on such matters. Try creative ways of rewarding success, such as using symbolic gestures such as
challenge coins in the military
.

Look Beyond the Job

​Consider who your people are beyond the job. While your payroll clerk may be skilled at processing payroll and using timesheet software from Clockspot to their advantage, this might not be where they want to spend the entirety of their career. Perhaps they envision completing their schooling and becoming a chartered accountant. Perhaps they'll want to go a completely different direction within the organization.
Take the time to learn what people want to do with their lives. What are their goals and aspirations? What are their passions and values? Organizations with great leaders don't strive to keep someone in a role because it's convenient for the business; they treat their employees and humans with free will and help drive them toward their definition of success. Doing so will improve productivity and the employee's feelings of being valued and appreciated by their organization.

Identify Problems and Suggest Solutions

​To become a great leader and inspire other great leaders within an organization, one must be willing to acknowledge problems within a business. Therefore, employees need to feel safe coming forward to discuss problems and empowered enough to propose solutions.
If you're in a leadership role, create an open door policy. Let your people know that they can come forth and discuss a problem with you, even if the issue doesn't fall within the scope of your department. Ask them what they think a viable solution would be. Speak candidly about the reasons behind the highlighted problem.
Many times, an employee doesn't know the full story about why something is done the way it is. Having a better understanding gleaned from your discussion may put things in perspective. Other times, employees highlight an issue that others failed to notice and bring forth a solution that changes the face of business.
Giving your employees the power to speak their mind about the business and procedures gives them the confidence they need to communicate effectively and become great leaders in the workplace.

Be a Leader, Not a Boss

​Within an organization, those in management roles should be encouraged to act as a leader, not a boss. They should be taught by example how to handle themselves professionally, with humility in all actions. Employees should feel as though their superior is someone to look up to, not someone who overshadows them.
Sometimes, when someone moves up in an organization, they forget their roots. Their perspective is overwritten by their ego, and they forget that they, too, had to start somewhere. The power they have goes to their heads. This is not the sign of a great leader.
Organizations have a responsibility to make their expectations clear when it comes to how those in leadership roles are expected to convey themselves. They should go above and beyond and provide additional training. Just because someone was amazing at the many jobs they held within the company, it doesn't mean they will have the skill and fortitude it takes to oversee others.
Ultimately, becoming a leader rather than a boss is as simple and complex as changing one's mindset. Rather than asking "how will this help me?" a leader must ask "how can I help my people succeed?" Rather than giving orders and putting people to work, a leader will assign tasks and provide explanations as to why it's important while working equally as hard on tasks of their own.

Born or Made?

There is a constant debate regarding whether leaders are born or made. While some seemingly have the desired leadership qualities from a young age, the truth is that both play a role.
Some people, whether through preference or personality, will never be leaders. Others may strive toward leadership roles but fall short of being great because of their inability to follow. Great leaders do both, and never stop learning how to be better.