Pure-jobs.com/blog is the premier global online employment solution for people seeking jobs and the employers who need great professionals — and PURE JOBS BLOG is the place to find all the advice you need. Our focus is on helping job seekers and anyone who is looking for tips and advice on managing their careers. come and join us and ask comment we love to hear your views.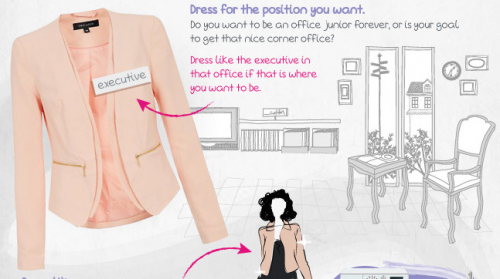 Being a professional involves a lot more than how we interact with fellow employees, employers, and the clients that we encounter. It also involves more than just than just our job performance. One of the most important factors to being a professional is the way in which we dress. Businesswomen contend with a number of issues when it comes to presenting themselves in a professional manner.
When it comes to planning a professional wardrobe there are a number of factors for women to take into consideration. Here are just a few of these factors:
Wear fitted clothes, this is not too complicated, but many people ignore this basic concept.

Make sure your blouses are not too low, exposing too much cleavage, or your skirts are too short, exposing too much leg. You are a professional, present yourself as such.

Wear clothes that are appropriate for your company/industry. If you were in a corporate office, bank, or even many high-end retailers, jeans and t-shirts are not appropriate.
Here are some of the things you should aim to avoid:
Avoid excessive amounts of accessories. Simple and understated is the best option when presenting a professional image. Additionally excessive or clunky jewelry that is visually distracting or makes noise can be distracting to other co-workers and clients entering your workplace.

Avoid the use of strong perfumes, as many people have allergies or the scent may overwhelm others.

Even on casual clothes days, avoid wearing ripped or torn clothing items. Although they may be fashionable outside of work, at the office they are not.

Avoid the excessive use of makeup keep it simple and clean. Keep fingernails well manicured and only use light or neutral polish colors.

Keep your hair well groomed, and never go to work with wet hair as it can demonstrate you lack time management skills.
Dressing professionally at work is essential to make the best impression to everyone that you will encounter at your office. A client that comes into an office and sees someone that is unkempt, dressed far too casually, or appears to take no pride in their appearance can leave that client wondering if they will be as inattentive when it comes to their business concerns.
Another tip to remember is when you get a new job; make sure you read over the dress code rules and regulations. The best way to avoid problems related to your work attire is to find out exactly your employer expects from you.
The following infographic from NewLook.com offers some useful do's and don'ts for women's business attire.
Last modified on
Sponsored Jobs
Sales Account Manager
Company Name :
Capita Plc
Date :
06-05-2015
Meeting the annual sales target agreed by the UK Sales Manager. Attend User Group meetings and other forums as required by the UK Sales Manager....
Accounts Reconciliation Administrator - Chubb - North West
Company Name :
Chubb Fire & Security Limited
Location :
ENG
Date :
29-04-2015
Chubb Fire and Security are recruiting an Accounts Reconciliation Administrator to work within their busy finance function on a 6 month temporary contract....
National Account Manager
Company Name :
Shred-it
Date :
06-05-2015
In the role of National Account Manager you are responsible to grow your sales region year over year at a set growth expectation assigned by the Director of...
Territory Account Manager - Education
Company Name :
Sophos
Date :
20-04-2015
Lead channel sales activities for larger opportunities in assigned territory not assigned to Channel Account Executive....
Sales Account Manager
Company Name :
The MathWorks
Location :
Cambridge, ENG
Date :
27-04-2015
As a Sales Account Manager at Math. Works, you will be tasked with maximising the sales of Math. Do you want to work in a sales environment that takes...
Channel Sales Representative
Company Name :
NetApp
Location :
London, ENG
Date :
05-05-2015
Experience with target account selling, solution selling, and/or consultative sales techniques. Ability to work collaboratively with employees within the sales...
Business Development Consultant
Company Name :
HITACHI CONSULTING UK LIMITED
Location :
London, ENG
Date :
06-05-2015
This could be from (but not limited to) experience from a previous role as an associate account manager, marketing manager, or recruiter....
Customer Service Business Improvement Lead
Company Name :
Twenty Recruitment Group
Location :
Midlands, ENG
Date :
05-05-2015
Moreover, you will be directly coaching the front line teams and section managers to enable world class performance and embed a culture of continuous...
Field Sales Account Manager
Company Name :
Aaron Wallis Recruitment & Training Ltd
Location :
Islington, ENG
Date :
05-05-2015
Sales Executive, Account Manager, FMCG Global Brand. This is an outstanding sales account management opportunity working for a multi-million pound manufacturer...
Product Specialist Sales Representative United Kingdom
Company Name :
Good Technology
Location :
London, ENG
Date :
03-05-2015
The Product Specialist Sales Representative closes on qualified opportunities generated through direct selling activities, as well as referred by the Business...
Area Sales Representative
Company Name :
Travis Perkins
Location :
ENG
Date :
01-05-2015
Achieving targets through the development of profitable sales from a ledger of customers within a defined area....
Sales Coach
Company Name :
XLN Business Services
Location :
London, ENG
Date :
06-05-2015
As our Sales Coach you'll train and develop the best sales people from right across the region and you'll have a real say in how training is implemented across...
Regional ISV Partner Lead - UK&I
Company Name :
Amazon Web Services UK Limited
Location :
London, ENG
Date :
05-05-2015
Computer science degree, engineering experience, technical sales roles. The ideal candidate will possess both a business background that enables them engage at...
Account Manager
Company Name :
GE Healthcare
Date :
05-05-2015
New account development and expanding existing accounts within the defined market / geographic territory....
Area Sales Representative
Company Name :
Cromwell Group
Location :
SCT
Date :
06-05-2015
Previous area / field sales experience is essential, with demonstrable sales success. To achieve defined sales targets whilst maintaining good profitability...
Account Manager
Company Name :
Location :
Evesham, ENG
Date :
30-04-2015
Strong sales or account manager experience. Account Manager Main Duties:. Account Manager Necessary Skills, Qualifications and Experience:....
Junior Account Manager
Company Name :
TRUE CAREERS
Location :
Midlands, ENG
Date :
04-05-2015
Day-to-day management of the account including timing plans, status reports and management of finances along with trafficking work through the agency (creative,...
Key Account Manager
Company Name :
Alliance Healthcare
Date :
06-05-2015
This is a fantastic opportunity for a Key Account Manager working in a defined territory. The main objective of a Key Account Manager will be to hit and exceed...