PURE JOBS BLOG
Pure-jobs.com/blog is the premier global online employment solution for people seeking jobs and the employers who need great professionals — and PURE JOBS BLOG is the place to find all the advice you need. Our focus is on helping job seekers and anyone who is looking for tips and advice on managing their careers. come and join us and ask comment we love to hear your views.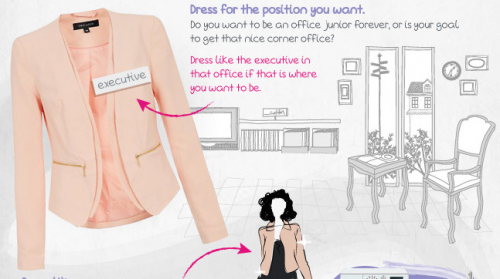 Being a professional involves a lot more than how we interact with fellow employees, employers, and the clients that we encounter. It also involves more than just than just our job performance. One of the most important factors to being a professional is the way in which we dress. Businesswomen contend with a number of issues when it comes to presenting themselves in a professional manner.
When it comes to planning a professional wardrobe there are a number of factors for women to take into consideration. Here are just a few of these factors:
Wear fitted clothes, this is not too complicated, but many people ignore this basic concept.

Make sure your blouses are not too low, exposing too much cleavage, or your skirts are too short, exposing too much leg. You are a professional, present yourself as such.

Wear clothes that are appropriate for your company/industry. If you were in a corporate office, bank, or even many high-end retailers, jeans and t-shirts are not appropriate.
Here are some of the things you should aim to avoid:
Avoid excessive amounts of accessories. Simple and understated is the best option when presenting a professional image. Additionally excessive or clunky jewelry that is visually distracting or makes noise can be distracting to other co-workers and clients entering your workplace.

Avoid the use of strong perfumes, as many people have allergies or the scent may overwhelm others.

Even on casual clothes days, avoid wearing ripped or torn clothing items. Although they may be fashionable outside of work, at the office they are not.

Avoid the excessive use of makeup keep it simple and clean. Keep fingernails well manicured and only use light or neutral polish colors.

Keep your hair well groomed, and never go to work with wet hair as it can demonstrate you lack time management skills.
Dressing professionally at work is essential to make the best impression to everyone that you will encounter at your office. A client that comes into an office and sees someone that is unkempt, dressed far too casually, or appears to take no pride in their appearance can leave that client wondering if they will be as inattentive when it comes to their business concerns.
Another tip to remember is when you get a new job; make sure you read over the dress code rules and regulations. The best way to avoid problems related to your work attire is to find out exactly your employer expects from you.
The following infographic from NewLook.com offers some useful do's and don'ts for women's business attire.
Last modified on
Sponsored Jobs
Head of Sales - International
Company Name :
People Marketing
Location :
ENG
Date :
04-02-2016
Advise and assist Account Managers in the presentation of proposals for new opportunities with existing clients....
Head of Sales
Company Name :
Royal Mail Group
Date :
08-02-2016
Head of Sales. With a track record of executive level sales, ideally you will have experience across Government, E-commerce and Private Sector, you will have...
Events Assistant
Company Name :
Bird & Bird
Location :
London, ENG
Date :
08-02-2016
This role will be providing general administrative support to the International Events Manager and Senior Events Executive, helping them to deliver the UK...
Account Manager
Company Name :
Location :
Swansea, WLS
Date :
03-02-2016
Account Manager – Responsibilities. Account Manager – The Role. We have an exciting opportunity for an Account Manager to join our team based in Swansea ....
Account Manager - FA-4073
Company Name :
The Football Association
Location :
St. George's, ENG
Date :
01-02-2016
Experience of working in a sales or account management environment. George's Park is looking for an Account Manager to be a senior member of the sales and...
Area Manager - London
Company Name :
English Heritage
Location :
London, ENG
Date :
03-02-2016
An exciting and varied role, you will be responsible for the stewardship, leadership and management of staff working across properties in the London territory
Head of Sales
Company Name :
Ineos
Date :
03-02-2016
Formulate and deliver the INEOS Solvents sales strategy through leadership of the sales team, whilst applying sales excellence to other INEOS Enterprise...
Customer Relationship Manager
Company Name :
Manchester Metropolitan University
Location :
Manchester, ENG
Date :
08-02-2016
Customer Relationship Manager. As CRM Manager, you will work closely with Recruitment and Admissions and the CRM Project team to....
ERP Technical Stream Lead - Contract Role
Company Name :
Harrington Boyd
Location :
London, ENG
Date :
08-02-2016
Working with all technical project managers and the Program Manager of the ERP Transformation program to ensure that all technical plans are feasible....
Sales Consultants Positions, New Bond St Boutique
Company Name :
Christian Dior UK Ltd
Date :
20-01-2016
As part of the opening of The House of Dior on New Bond Street in London, Christian Dior Couture is looking for experienced Sales Consultants for its UK Network...
Independent Reviewing Officer / Chairperson
Company Name :
Vale of Glamorgan Council
Location :
Barry, WLS
Date :
02-02-2016
Days / Hours of Work 37 hours per week Brief Description of Post To Chair Child Protection Conferences, LAC Reviews, Adoption Reviews, Pathway Plan and
Sales Account Manager
Company Name :
Cambridge Consultants Ltd
Location :
Cambridge, ENG
Date :
04-02-2016
Do you want to combine your substantial sales/ business development experience in the wireless and satellite market with your entrepreneurial flair to grow and...
Assistant Operations Director
Company Name :
HC One
Date :
01-02-2016
Supports home managers to improve performance against quality and commercial objectives. POSITION IS BASED WITHIN THE EAST MIDLANDS REGION*....
Trainer - North
Company Name :
Guerlain UK
Date :
01-02-2016
> Conduct in store visits with Guerlain BC'S in the top 40 accounts (accountable for the South Region). PURPOSE OF THE ROLE....
Sales Advisor
Company Name :
House of Fraser
Location :
Leicester, ENG
Date :
05-02-2016
Sales Advisor - Various Hours. Must be fully flexible, available to work evenings and weekends....
Account Manager (Manchester)
Company Name :
Experian
Date :
22-01-2016
The Account Manager will deliver against financial targets, focussing on expansion within existing accounts of an established client base as well as acquiring...
Interim Business Development Manager (12 month FTC)
Company Name :
Anthem Consulting
Location :
London, ENG
Date :
08-02-2016
You will be immediately available and have solid experience within a complex professional services environment either in a Business Development Manager role...
Associate Relationship Manager
Company Name :
Lloyds Banking Group
Location :
Reading, ENG
Date :
02-02-2016
As an Associate Relationship Manager you will actively contribute to the development of our existing business relationships....